Printing reports
Last updated
To print a report, choose Actions > Print.
To print a report as well as its meta-data (see screenshot below), choose Actions > Print Details.
Generating a PDF
You can generate a PDF of your dashboard from the print dialog by changing the Print Destination to "Save as PDF". The PDF is generated by your local web browser in conjunction with whatever "PDF printer" plugin is installed on your local machine. PPM Pro generates the HTML for the report/dashboard page and the browser converts that to a PDF. As such, there can be differences in the output based on the browser and PDF printer software being used locally. Note that if you use a PDF print driver instead of the "Save as PDF" option, your resulting file may be larger.
To ensure the best output, you should enable your browser to print background color and images. See Printing Background Colors for more information.
Downloading Report Outputs - Pie, Column, Bubble Charts
For Pie, Column, and Bubble charts, click the Download icon to download the report out in the following formats: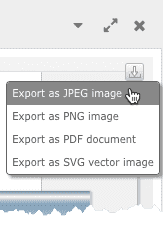 You can export Gantt charts to PDF (from the Export menu).
Printing a drilldown report
If your report drills down to another report, click the drilldown link to display the linked report; both reports now appear in the report container. Choose Actions > Print to print both reports.
Printing background colors
Browser menus constantly change with new versions, so these instructions may not be an exact match for your browser, but they should get you very close.
Internet Explorer
1. Choose Print > Page Setup.
2. In the Page Setup dialog, verify that Print Background Colors and Images is checked.
3. Click OK.
FireFox
1. Choose Firefox button > Print > Page Setup.
2. In the Page Setup dialog, verify that Print background colors and images is checked.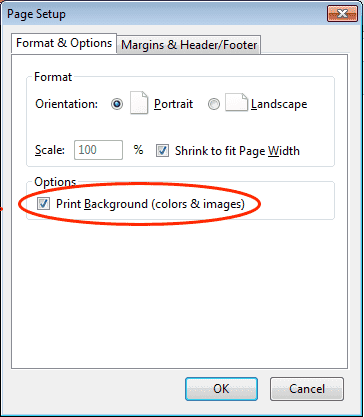 3. Click OK.