PPM Pro Entity Hierarchy
Last updated
Before you configure PPM Pro entities, you should have an understanding of the relationships between the entities that comprise your organization.
Click here for a detailed hierarchy diagram.
Organization
The organization is the over-arching umbrella for all of the divisions (optional), departments (optional), projects, tasks, resources, issues/risks and requests in PPM Pro. An organization is the highest level reporting entity in PPM Pro; next come divisions and departments, though these are optional entities. Within the organization you can view a list of all of the divisions and all of the departments that the organization is composed of, if your organization has implemented those entities.
Divisions
A division can be used to organize your PPM Pro data across different internal business areas. You can have one division to represent your entire organization or you can have multiple divisions. Examples of multiple divisions could be: Information Technology, Sales, Development, Marketing, and so on. Divisions could also be broken out by geographic location (for example San Francisco, Tokyo, London) or lines of business (Web Dev, Branding, Printing.)
Departments
A department is typically a smaller group that can roll up into a division. Here is an example of some departments that may fall within the Sales Division: Internet Sales, Inside Sales, Third Party Sales. For an Information Technology Division, you may have: Application Development, Infrastructure, and Security & Compliance. If you use departments, then you'll probably want to associate the projects that you enter in PPM Pro with one of these Departments. Associating projects with departments allows you to aggregate cost data. With no department association, you can alternatively treat each project separately.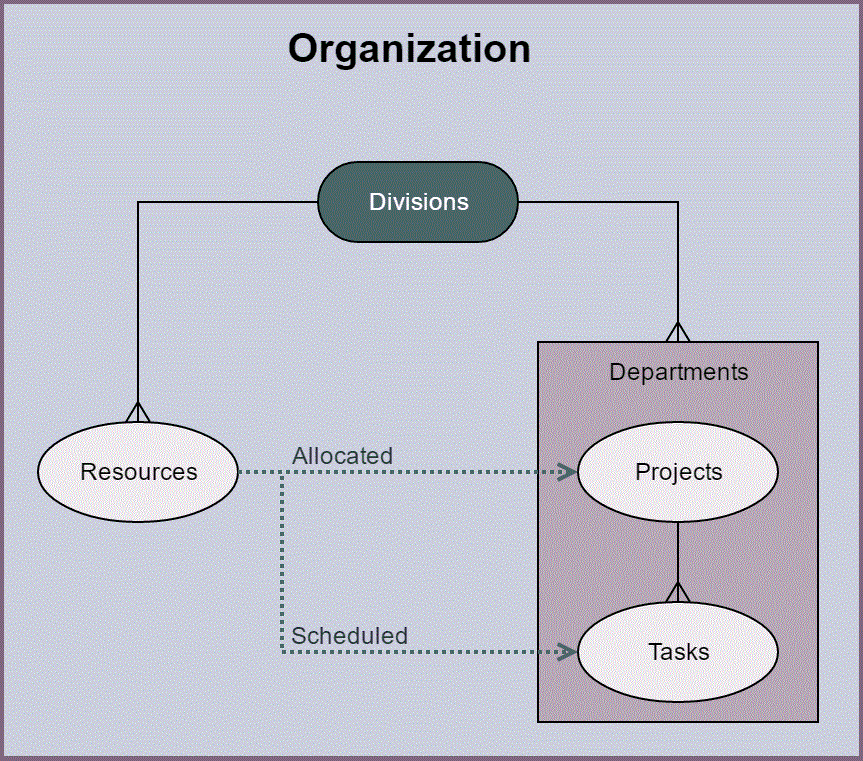 Projects
A project is composed of tasks, a project team and project roles. Projects can be associated with departments in PPM Pro, or they can be independent entities. When you create a task, you can budget and/or estimate costs, revenue, and hours. Once you add a project team, you can build out your project roles and resources and can begin to track your actual costs, revenue, and actual hours.
Resources
Resources are allocated to projects and scheduled to tasks. Resource level demand is derived based on resource assignment to tasks. Resources belong to units, which are created and populated on the Admin/Organization/Hierarchy page. If you have not built out your hierarchy, then all resources will belong to the root unit.
Other entities that you need to address during setup are requests and portfolios.