Exporting Dashboards and Reports
Last updated
Anything that can be exported to Excel can also be exported with comma-separated values (CSV) or tab-separated values (TSV).
Exporting graphical reports results in a PDF document displayed in Adobe Acrobat Reader. Gantt charts are given a print dialog for configuring the list and graphical aspects separately. See Printing to Gantt Reports to PDF below.
Dashboards
Dashboards and their components can be exported to Excel. Each report on the dashboard is automatically exported to a separate worksheet.
Graphical Reports
Graphical charts can be exported to Excel, PDF, and PowerPoint, as well to PNG or JPG files, and a SVG vector image.
Export menu for graphical reports
Text-based Reports (List, Crosstab, Gantt)(Tile coming soon)
Menu for list-based reports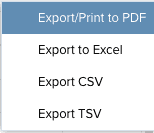 Printing Gantt Reports to PDF
Run the Gantt report. In the Actions menu of the rendered report, choose Export/Print to PDF.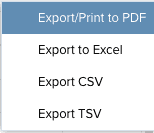 The dialog that appears includes 3 radio buttons, as shown in the screenshots below. The first button will always display the topic of the report:
| | |
| --- | --- |
| Project Topic, Gantt Type | Task Topic, Gantt Type |
The top button reflects the Topic entity on which the report is based. Select this radio button if you want to print the left-side columns as a list report.
Select the Gantt button to print the Gantt chart only.
Select the List and Gantt Chart button to print both the list and the chart.
If printing the Gantt portion, select the date range you want to print; adjust the size and orientation as necessary.
For additional options, click the More button. Options described below:
| Printing Option | Description |
| --- | --- |
| Show Header/Show Footer | |
| Print list/chart on one page (shrinking list as necessary) | |
| Print Gantt bar labels | |
| Print columns: select the columns you wish to include in the list part of the report. | |