Routing Requests to Another Staffer
Last updated
Note: Users must have "Staff Request" permission to see the Resource Staffing screen, and a pool of resources from which to staff in order to fulfill staffing requests. See About Staffing Permissions and Creating Staffing Profiles for information about permissions.
The Resource Staffing screen supports the various actions taken by resource managers as they manage staffing requests, including fulfilling them, partially fulfilling them, declining them, or routing them to someone else to fulfill or manage.
You can route a staffing request to a different resource manager, group, or unit, depending on what is available in your Route To droplist.
To re-route a request from the Resource/Staffing page
Select the request and click its Details tab.
Locate the Route To field and click the ellipsis to display the Route To dialog.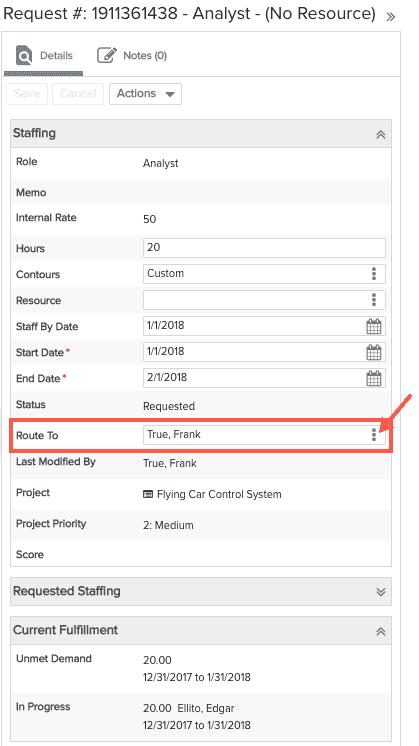 Select the new resource, group, or unit enter an optional note, and click Assign.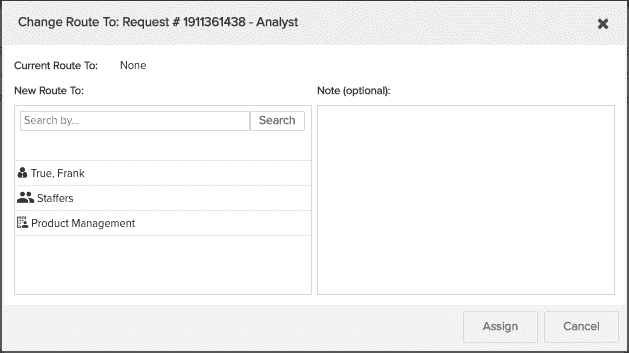 The request will be routed to the new staffing resource, who will be notified with an email.
Note that you can also right-click on the request and choose Change Route To from the context menu. This takes you directly to the Change Route To dialog, shown in the screenshot directly above.