Custom Rates
Last updated
If you have a scenario where you want to configure a one-off or special rate for a specific resource or role, you can create a custom rate. Custom rates are not shared, but apply to one resource or role only. Since the rate applies to a resource or a role, you create the rate from the resource record or the Roles page.
Note: The ability to specify a currency along with the custom rate is a Beta feature targeted for January 2019 release.
To create a custom rate
Navigate to the resource record and choose Menu > Edit Rate. To create a custom role rate, navigate to Admin/Organization/Roles, locate the role and click the [Rates] link.
The Rates dialog appears.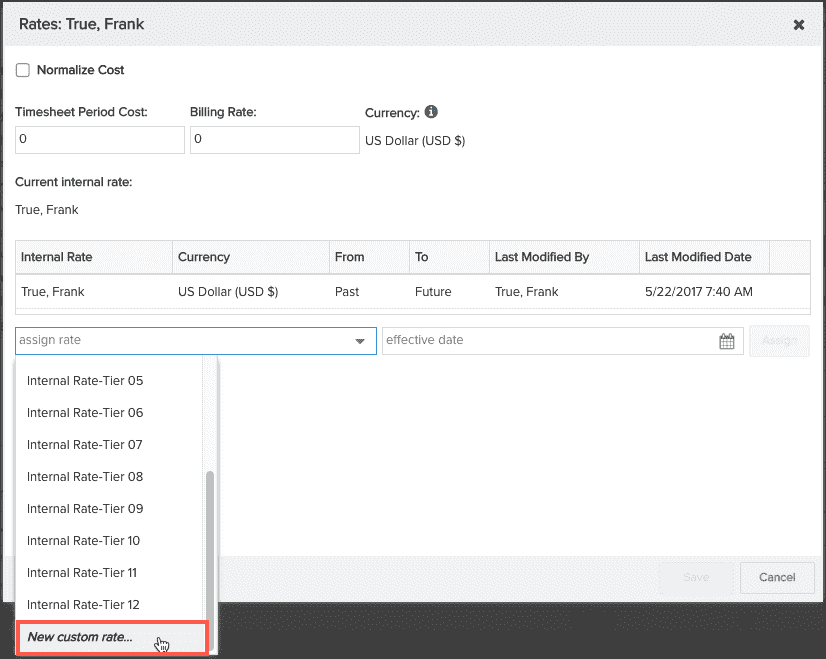 Click in the Assign Rate drop list, scroll to the bottom and choose New custom rate... .
The New Custom Rate dialog appears. Note: The Currency droplist is a Beta feature targeted for the January 2019 release.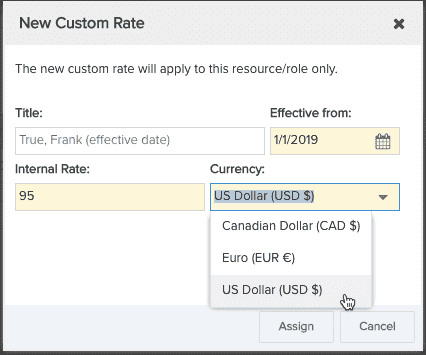 (Optional) Enter a title or use the default. The default text will be the user or role name and the actual date.
Enter the date from which the rate will be in effect in the 'Effective from' field.
Enter the rate(s). (If you are using a two-rate system, enter 2 rates (they might be labelled something like OpEx and CapEx).
Select a currency - if your organization is using the multi-currency feature, then select the appropriate currency, or leave Organization default currency. The Currency droplist is populated with currencies created in Organization/Finances/Currencies.
Click Assign. If you need to make any changes, click Cancel and create the rate again.
If you are happy with the rates and dates and rate title, click Save.
If you need to make a change after you save, you can create a custom rate and use the same rate