Working with the Card View (Beta)
Last updated
This video demonstrates how to navigate the request list and card views. Duration: 7.5 min.
The Card view is a "kanban" board that allows users to move cards (requests) from lane to lane, and generally provides a visual workflow that some users prefer. If using gates, you can group the lanes by Current Gate or Gate Status. For gateless requests, you can use any lookup list field as your lane designations. Note that if you are using the Card view and grouping by Gate Status you cannot drag cards to different swim lanes. Because each lane represents a gate status, you must take the appropriate workflow action (such as Approve, Reject, Send Back to Prior Gate) to move to another gate.
You can toggle between the List view and the Card view as often as you like.
Whatever view is displayed prior to navigating away from the Requests entity will persist; that is, if you choose the Card view and then navigate to the Reports grid and then navigate back and click the Requests icon, the Card view will be displayed.
The cards that populate this view are determined by your permissions:
If you have global permission to view or edit all requests, then you will see all the requests for your organization.
If you do not have global view or edit permissions, then you will see all requests that you are involved with:

requests you have created or submitted (permissions on these tasks are implicit for requester/creator - see Setting Up Permissions for Requests)
requests you are asked to approve
requests you are asked to score
Note that you can also view request cards on Home/Requests (then click the Card view icon), but you are limited to requests that you created, can approve, or can score.
The Card view is the starting place for creating requests, as well as approving and scoring requests (provided you have the appropriate permissions) . You can also create requests from the List view.
Anatomy of the Card View
The Card view is divided into "lanes" which reflect a list field values - you can select which list values to show or hide (see Configuring the Columns/Lanes below for more information about configuring lanes). For example, the Gate Status list can represent the lanes. If you configured color for a status list, the color will be used along the left-hand edge of the card; if you have not configured colors, default colors will be used. You can use filters and the Category droplist to hide/show cards. Note that the Category droplist is not visible if only one category is defined.
Configuring the Columns/Lanes (Group By)
To determine the columns/lanes to display, you'll use a combination of the Group By and Show droplists. The Group By droplist is populated with any single-selection lookup list fields that are available to be placed on the grid (this means your administrator has made them available by adding them to the Grid Columns page when configuring the request entity). If you wish to remove certain fields from the Group By droplist, remove them from the Requests grid. In the example above, the Group By field is Current Gate, which means all the valid values for Current Gate field are available to show as columns. The Show droplist is a multi-select list that lets you choose which values you want to appear as columns/lanes. In the screenshot below you can see the fields available in the Group By list - the selected field is Current Gate, and the Show droplist contains all the valid values for Current Gate. Select any or all values.
About the (None) Column and Gate Status
The (None) column is home for "everything not in any of the other lanes". For example, when Group By = Gate Status, the (None) column includes any requests that do not have a gate status. You can also hide "(None)" via the Show options if all categories have gates such that the column would never have any cards. Another example: whenever Group By is Current Gate, "(None)" would include all request cards that are not at a gate, such as those whose statuses are New, On Hold, Approved, and Rejected. Any card that has empty/no status would show up in the None column.
Note that Current Gate and Gate Status should not be used if you are working with gateless requests - those fields will have no values without gates.
The New Menu
The New menu contains the list of request categories from which you can create a request. Choose New > <category name> to create a new request. If your organization uses just one request category, then simply click the New menu to create a request.
Editing Card
Double-click on a card to display a modal that minimally contains the request Details tab, and optionally the Notes, Attachments, and Associations tabs.
You can edit card fields by double-clicking on a card to invoke the request modal. All fields on the grid are displayed in the Details tab of the modal, where you can edit fields that you have permission to edit (there may be additional fields in the Details tab that are not displayed in the grid). If using gates, the cards cannot be edited if the request has a status of In Progress; requests On Hold may be edited.
Below is a screenshot of a request modal, with the Details tab selected: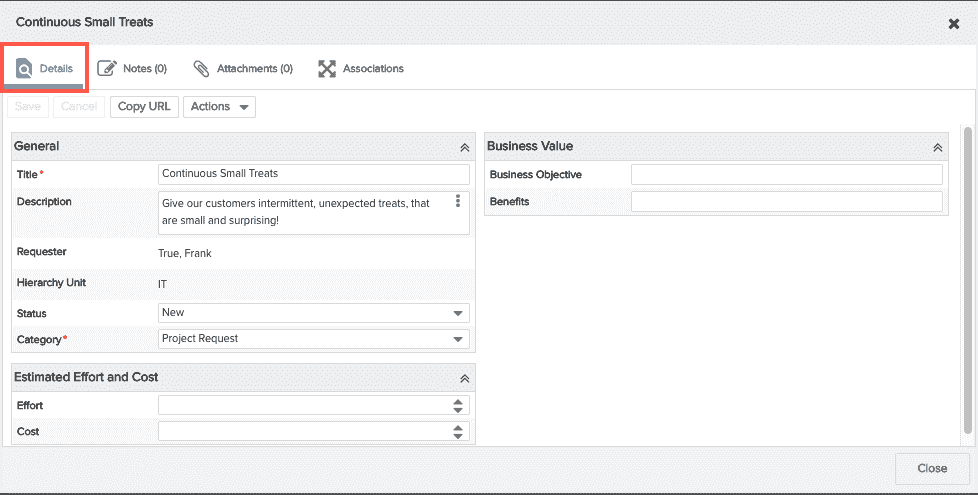 Once in the request modal, you can use your mouse and/or keyboard navigation. Tab moves you from field to field and to the Save/Cancel Buttons. Use arrow keys to move you through drop lists and suggested matches (for picklists) and use Return/Enter to make your selections. Click the Save button or use Ctrl-S to save.
Selecting Cards
Select single cards by single-clicking; use shift-click to select multiple cards (or hold down the shift key and hit the down arrow key repeatedly). When you select more than one record, the message "n items selected" is displayed (temporarily) in the footer of the page. This is useful if you want to select a range of records and want to know the count.
The Actions menu
The Actions menu at the top of the page holds all operations that you can perform on requests based on your user permissions.
Actions menu

Action

Description




Open

Opens a new window that displays the selected request's Details tab and other component tabs, if any (notes, attachments, for example). You can also double-click the request to open it, or right-click on the selected request and choose Open (or Open in New Tab).

Open in New Tab

Opens the selected request in a new tab displaying its Details tab and other component tabs, if any (notes, attachments, for example).

Bulk Edit
Opens an editor that allows you to edit multiple requests. Select the requests (Shift-click or Ctrl-click to select multiple rows) and then choose Bulk Edit. See Bulk Editing for more information.
Copy URL
Copies the URL to the current request.

Copy Rows to Clipboard

Copy the selected rows to the clipboard. (Shift-click or Ctrl-click to select multiple rows.)

Export to Excel
Export a maximum of 5000 list rows to Microsoft Excel. If you export 5000+ rows, you will be notified that your export will be truncated and encouraged to run a report to accommodate the large number of rows. Reports can handle up to 50,000 rows. See Printing the Requests List.
Delete

Deletes the selected request (if user has permission to delete).