Adding Threaded Notes to an Entity
Last updated
Note: All entity types can have notes. This topic uses screenshots from the portfolio entity as an example. Also remember that for projects, you won't see the tabs like the screenshot above, but rather will click the Notes section link.
You can add notes to entities from the Notes tab (for projects, navigate to the Notes section). The Notes panel has a right-click context menu for performing actions on task notes; the same actions are available under the Actions menu. The Message pane will appear beneath the Notes list or to the right of the Notes list, depending on the width of your browser window.
To add a note
Note: By default, the system strips off any formatting when pasting text into the rich text editor. If you want to preserve the formatting of pasted text, click the Paste Formatted Text button (shown in the screenshot below) and the paste as you would normally (right-click/Paste or Ctrl-V).
1. Navigate to the entity (for example, All Projects/ProjectName/Tasks/taskname or Issues/IssueName).
2. Click the Notes tab (or click the Notes link if you are in a project).
3. Click Add Note.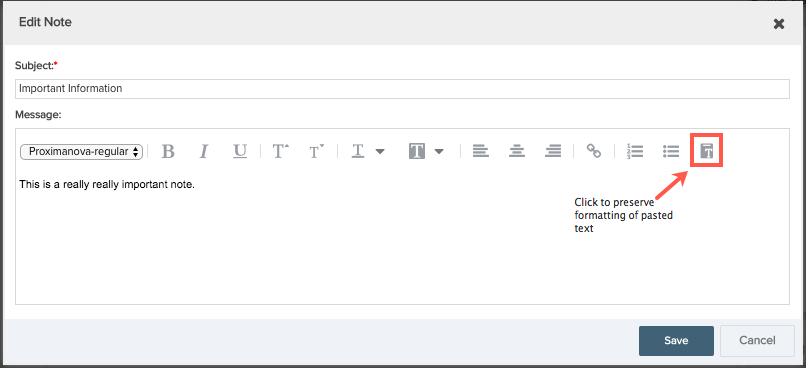 4. Enter the appropriate text in the Add Note window, then click Save. Remember if you are pasting formatted text and want to preserve it, click the Paste Formatted Text button and then paste the text.