Gantt charts
Last updated
This topic describes how to configure the data for a Gantt chart report. The report is interactive - that is, after you run the report you can adjust a variety of settings in the rendered output, such as:
the field that drives the bar color ("Color by" field)
whether or not to display the "Color by" field legend
date range to display
the Gantt Bar Label that appears to the right of the bar
zoom
the columns that appear on the left side of the report (the "grid")
Note that these settings are part of the report definition but can be modified interactively (either on the report or from a component on a dashboard) on a per-user basis. The interactive settings are "sticky" until the report definition is edited again. At this point all per-user interactive settings are cleared and the values from the report definition are in affect. Also, if you wish to revert back to the original settings, you can clear local settings (Menu > Clear Local Settings on the user's resource record), or manually reset the fields.
The screenshot below shows a rendered gantt chart report - some of the interactive controls are on the report, some are in the Configure Settings dialog (note that the Gantt Settings tab is displayed below; click on the Configure Columns tab to adjust columns to display):
You will be working with a screen like the one below to configure your report. At this point you will have already selected a report source, clicked New, and filled out a preliminary Basic Details screen.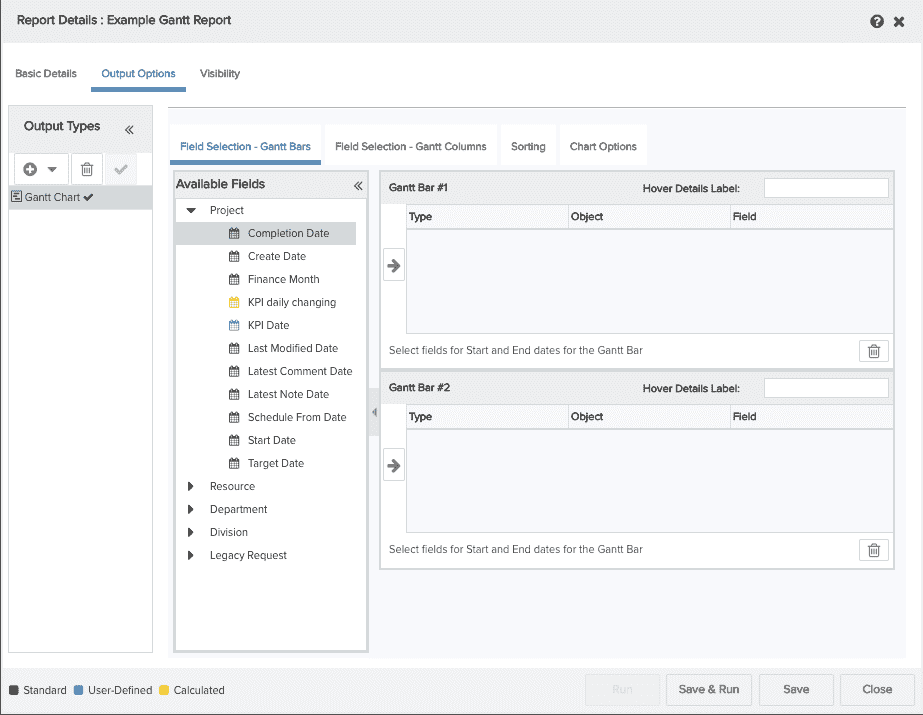 To configure a gantt report, you will: