Using the Task Gantt Chart
Last updated
When you click the

button to show the Gantt chart (or choose Show Gantt Chart from the Gantt menu), the Gantt tools become active. Each graphical tool has an equivalent menu item in the Gantt menu.
Gantt Settings
Click the settings icon
to display the Gantt Settings dialog. The configure columns tab is where you choose the fields to display on the task list. You can reorder the fields here, or simply drag and drop them on the grid.
The Gantt Settings tab is where you configure different aspects of the Gantt chart; each setting is described in the table below.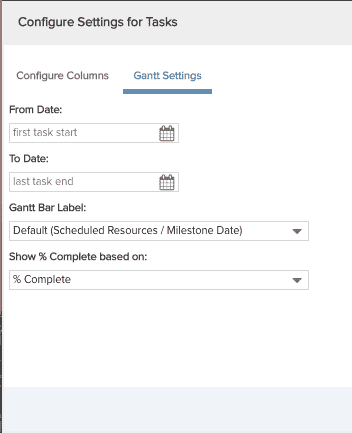 | Setting | Description |
| --- | --- |
| Gantt Date Range | Select the date interval to display. |
| Gantt Bar Label | Select a field whose value will appear as a label to the right of each bar. Use any column configured on the Gantt Columns tab. |
| Show % Complete based on | Select any % field to display a darker shade on top of each Bar #1 to represent the % complete of that field's value. The darker shade gives each bar the appearance of a progress bar. This feature is specifically for treating the Gantt bar like a progress indicator, and can be based on any % field, in addition to Project % Complete. |
Task Gantt Chart Elements
The Gantt chart represents tasks according to the following:
Red bars - tasks on critical path
Blue bars - automatically scheduled tasks (not manually scheduled, not on critical path)
Gray bars - manually scheduled tasks
Thin gray bars (appear on thick gray/thick blue bars) - complete date
Black diamond - milestone
Downward-pointing shape at begin/end - summary tasks
These elements are called-out in the screenshot below: