The Team tab is where you configure users, groups, or units to have permission(s) on the current report instance. For example, you can configure some users to be able to run/view the report, while you might configure a group of users to be able to edit the current report.
To grant permission you'll need to have at least one permission profile configured with a Team rule. See Creating Team Profiles. Once you have the appropriate profiles, you can add users, groups, or units to the team for the current project. If you want to give users/groups/units permissions on ALL reports, then you would create a permission profile with a Global rule and assign access there. See Creating Global Profiles.
See also Using the Report Designer for general information about the report designer.
To add users to the report team
Click the Add button.
In the Add User/Group/Unit dialog that appear, click the radio button for the type of resource to add (single user, group, or unit). User is selected by default.
Choose the user/group/unit to add - single-click to select one, Shift-click to select a range, Ctrl-click to multi-select non-adjacent rows.
Select the permission profile to use with the selected user/group/unit.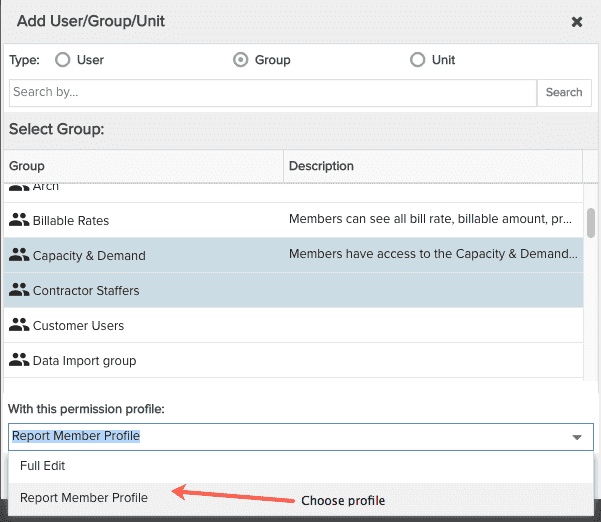 Click Select. Now you'll see the two groups with the Report Member Profile are on the report team.
​​​​​​​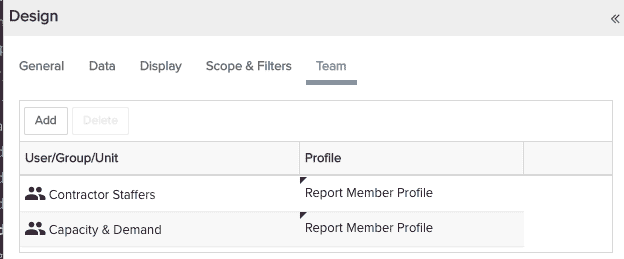 Don't forget to save at the top of the report designer.
To remove users/groups/units from the report team
On the Team tab, select the users/groups/units to remove and click the Remove button.