Reports, Dashboards, and Filters
Last updated
Topic Index
Change Owner (from the entity list)
You can change ownership for selected dashboards, reports, or filters directly from the list. Select the rows you wish to change and choose Actions > Bulk Change Owner, or select it from the right-click context menu. See Changing Entity Owners for more information.
Saving Ad-Hoc Filters
When you're creating filters on the fly, instead of re-creating them over and over, you can save the ones that you suspect will be useful in the future. Simply click Save this filter, modify the supplied title and optionally add permissions if you want others to be able to use it. See Ad-Hoc Filters for more information.
Adding Multiple List Values to a Filter
When creating a filter for that includes several list values, instead of manually adding each value to the filter, you can select "multiple/view all", which located at the bottom of the list of values. You can then select the values you wish to include.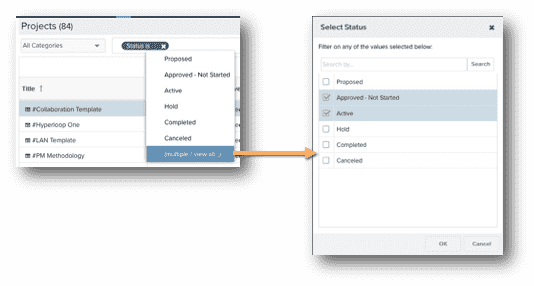 Filter Runtime and Number of Results
When creating or editing a filter, as soon as required fields and valid criteria are entered, the bottom left of the modal will display the number of entities matching the filter and also how long it took to run the filter to get these results.
Cool Reports
Additional Reporting Capabilities