Creating Task Time Estimates
Last updated

Note that estimates are optional. Many project managers will not create estimates, especially in situations where the tasks are Fixed Bid or Not To Exceed because the Task Budget revenue defines the Fixed Bid or Not To Exceed amount.
You can use "no role" to generate time estimates without role-based cost and revenue values. You must use role estimates in order to get estimated cost and estimated revenue values.

The Roles are defined by the allocations on the project's Staffing page, or Primary Organization Roles.

The Estimated Hours at the Task Roles drive the amounts in Project Rollups for the financials esti­mates.
To create a task time estimate
Navigate to the task list for a project and select a task by clicking on its title.
Click the task's

Scheduling

tab.
Enter the estimated hours for the roles you wish to create estimates for.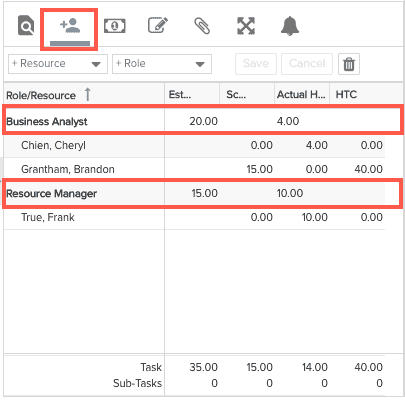 Click

Save

and repeat for additional tasks, if necessary.