Publishing Dashboards (Beta)
Last updated
[under construction]
Access to dashboards is most often delivered via emails that contain dashboard URLs, or by configuring a set of recipients for scheduled/published dashboards (of course users with appropriate permissions can simply view a dashboard from an entity- or top-level Dashboards grid. In order to deliver dashboards in this fashion, they must be published.
Also, unpublished dashboards can be configured to display in the Project/Overview and Home/Overview sections (see Setting Up Overview Dashboards (Beta)).
Overview
Once you get your dashboard looking the way you want it to, you can publish it, which means making the dashboard available by way of a URL. Note that a dashboard cannot be deleted while it is published.
The Players
Dashboard
Permission - Global or on team of at least on dashboard

Manage Publishing modal
There are many options for how you publish and manage dashboards, depending on your needs:
General Publishing/Republishing/Deleting
Permission to publish - Edit > Publishing globally or on team of at least one dashboard
Publish once - Manage Publishing Dialog appears, displays URL

the link can be clicked to open the published version of the dashboard
the link can be copied to provide to another user
no email notification is sent (only scheduled publishes have notification)

Publish with access control - see below
Published with permissions of the person publishing (might give users access to more than they usually have)
Published according to computer's date/time settings (not selected PPM Pro Locale in User Preferences)
View published dashboard ? Currently, click icon and then URL
Differentiate whether or not the user is viewing a published dashboard or not by the displayed footer info.
Rerun as Published By, Rerun as User
Viewing data - from time of publish or current?

(option to view published or run?)

Interactive filtering (like reports)
Allow publishing once per entity scope (must make copy if you want to republish on same grid)

settings are per-entity/scope; for example, a dashboard can be published on project A with some settings, project B with other settings, and then not at all on Project C.
if publishing for Org scope, must publish at the Organization/Dashboards grid (no publishing from the top level Dashboards grid)

All users can see which dashboards have been published (icon in Published column)
To unpublish the dashboard from the Dashboard list you must have Dashboard > Edit > Publishing permission
Cannot delete dashboard that is published - user must manually unpublish first
Publish at any time of day, not just after business hours
Publish multiple times within the same day
Top-Nav Dashboards
Provide a way to organize and quickly find dashboards, such as Group By
Ad hoc filters
Dashboard grid columns

Defaults: Title, Description, Owner,

Published, Last Published

, References, Last Run Date, Last Run By
Optional/available: ID, Excel Template, Create Date, Created By, Last Modified Date, Last Modified By, Published By, Last Published View Date, Last Published View By, Expiration Date, Next Publication.
Access Control for Published Dashboards (Authentication)
require a PPM Pro login (or SSO?) for viewing
configure IP restriction support
Good to Have - Provide Admin/Organization/Report and Dashboard Settings configuration option to turn on/off each of the access options across the company for published dashboards??
Publish on a Schedule
create a publishing schedule - updates and republishes the dashboard automatically on a specified schedule. You can additionally configure email alerts to notify one or more users when updates occur. Number of allowed external email addresses is 100?
Include Daily/Weekly/Monthly controls, and allow for The "Last" "Day" of every <n> mont(s)
Expiration Handling
Expiration based on number of publications (see related requirement below) with notification of expiration option. often used in conjunction with an access code so that you are periodically reminded to reset the access code. By default, the URL will expire in XX publications? Is there a default number?
Persist expired publication settings - if you mis the notification and the dashboard becomes unpublished, the previous settings are still configured you user can simply republish (without having to reconfigure settings)/.
Notifications
Configurable publish notification that includes a link to the published dashboard (see related requirement below regarding customize notification message)
Ability to customize the hyperlink text within the notification message to display in a "human-readable" way
When viewing the published dashboard, the user should be able to Rerun as Owner, Rerun as User, Export to Excel, Export to PowerPoint
(Very Good to Have) Ability to select entity Team and Groups for publish notification (nice to have Dashboard Team too). Ideally, provide a simplified logic selection control similar to Requests notification logic (see wireframe).
Published Dashboard Management
Viewing Previously Published Versions

Per inner circle feedback, minimally customers need to be able to access previously published dashboards (whether one time publish, scheduled publications, or ad hoc/republish) so that they can compare over time (sort of KPI)

Provide a way to access previously published dashboards, allowing the user to view/open (ensuring user can do side by side comparison or more than one dashboard, so open each in new tab/window), export (same export options as when viewing a published dashboard on its own), and print. Show as a grid, minimally including a column of each publication date (Last Published), but as feasible also include columns for Last Published View Date and Last Published View By. If last viewed date and/or by is not known due to access method, for example, we can show 'Unknown' as appropriate. Likewise if we know definitively a published dashboard was not viewed, we can show 'Not viewed'. Assuming we have a limit on the number of previously published dashboards we save/grant access to, indicate that limit on the screen. TBD limit on how many previous publications we allow saving/accessing, but should be per published dashboard (not across dashboards). See wireframe.

Admin/Publishing page - Admins can unpublish from this page (can't see publishing options)
Admin/Scheduling page - This page displays a list of all dashboards with a publishing schedule, showing the title, the last run date, the next run date, the expiration date, and who scheduled the dashboard.
Usage statistics? Internal, external tools
Indexing
Troubleshooting
If Overview dashboard has trouble loading, try clearing cache.
Dashboards and Indexing
Planview does not submit customer dashboards for search engine indexing and does not put the dashboard link on any public web pages. If the published dashboard does not require a password, it is technically possible for a search engine to index it. However, it is not likely that a search engine will locate the page unless the dashboard URL has been placed on some other public web page that is being indexed. As an extra precaution, you can require authentication to view the dashboard (see Publishing dashboards for more information about setting up authentication).
What Am I Looking At?
Differentiate whether or not the user is viewing a published dashboard or not by the displayed footer info. If viewing the published version, displayed footer should be "Published as: <person>" and "Published at: <publish date and time>". If just viewing a run version (for example, the user selected "Run" or selected one of the "Rerun" options in a published dashboard), the displayed footer should be "Run as: <person>" and "Run at: <run date and time>".
Managing All Published Dashboards
PPM Pro administrators and members of the Publishing standard group can view a list of all published dashboards under Admin/Publishing. Any dashboard can be unpublished from this screen. In addition, those users can also publish and unpublish dashboards from the Dashboards List screen.
You can add or change the access code, require a login to authenticate, or reset an expiration date by clicking the Published icon
for the dashboard in the Dashboard List page and modifying the settings in Publish Options dialog.
Things to Know about Published Dashboards
Dashboards must be run before they can be published.
Any drilldowns on reports that are included in published dashboards will be visible to all users, and active for users who are logged in. If not logged in, the user will be prompted to do so upon clicking a drilldown link. (Note: drilldown links available only to full, team, and support users.)
The URL for the published dashboard remains the same - you do not have to redistribute the URL after each update.
You must set an expiration date to one year or less from the current date.
Dashboards can only be scheduled to run outside of normal business hours (5pm - 7:30am in the current user's timezone).
A dashboard might not run at the exact time specified. The specified time defines the earliest start time. Dashboards are queued, and those configured to run around that time will get picked up, depending number of jobs ahead in the queue. A dashboard will never be run before the specified time.
If you configure an Access code, it can be any combination of up to 20 characters
Use the Copy URL button or right-click menu option to copy the published dashboard URL without opening the dashboard.
How to Publish a Dashboard
Full users who have Dashboards > Edit > Publishing permission can invoke the Publish Options modal (or the Update Options for Published Dashboards) to configure and manage published dashboards. Note that you must first run the dashboard and then select Actions > Publish from the dashboard viewer, as shown below:
To publish a dashboard
View the dashboard you want to publish by selecting it in the Dashboard List and clicking Actions > View.
In the Dashboard viewer, choose Actions > Publish, as shown below.

(Optional) Configure authentication - the default is "Do not require any authentication" as shown below: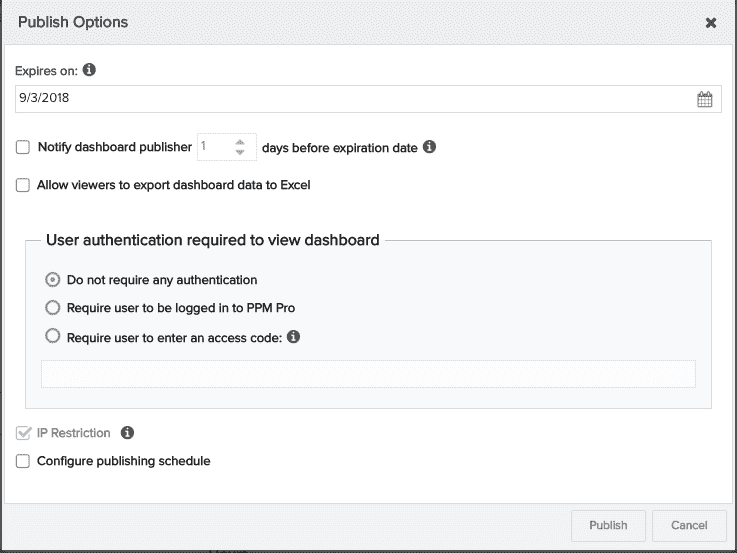 (Optional) Set URL expiration date and notify publisher by enabled check box and entering the number of days head of expiration date to send alert.
(Optional) Allow users to export dashboard data to Excel by enabling check box.
To provide dashboard security, you can

Require users to be logged into PPM Pro to view the dashboard - simply select that radio button
See Configure Authentication for Published Dashboards.
Set the date you want the URL to expire in the Expires on field. The date must be within one year of the current date.
(Optional) Configure the system to notify the dashboard publisher prior to the expiration date.
(Optional) Configure the dashboard to republish on a regular schedule enabling the Configure publishing schedule check box and setting a schedule for repeated publishing (see above).
(Optional) Enter custom alert text in the Email Subject and Email Message fields.
Click Save.
To unpublish a dashboard
Note: Can be done only by user who published the dashboard. Admins can unpublish from Admin/Publishing.
Navigate to the Dashboard List page.
Select the dashboard you wish to unpublish and choose Actions > Unpublish.
Click OK to dismiss the confirmation dialog.
Note: Users with administrative privileges can view a list of all published dashboards under Admin/Publishing. Any dashboard can be unpublished from that screen.
Exporting Published Dashboard Data to Excel
You can allow dashboard viewers to download data to Excel by enabling the checkbox next to Allow viewers to export dashboard data to Excel. This gives users access to the data without having to be logged into PPM Pro.

Configuring Published Dashboard Authentication
By default, no authentication is required to view a published dashboard - users can just click the URL. Note that if no authentication is required, this applies to the published dashboard itself, and not to drilldowns - users must be logged in to view drilldowns.
You can require authentication two ways:
a) Require users to be logged into PPM Pro to view the dashboard
b) Require users to specify an access code to view the dashboard. The access code can be any combination of up to 20 characters. You can reset the access code whenever you want.
Each of these options is configured by selecting the appropriate radio button. If you choose to require an access code, enter the code in the field that becomes editable after you select the access code option:
Configuring IP Restrictions
You can additionally require the user to log in from an IP address that falls within a range specified by your PPM Pro administrator. Note that your organization must be using the IP Address feature (enter a support case at customercare@planview.com if you are interested in enabling this feature). See IP Restrictions.
Expiration
Persist expired dashboard options. Ensure that if a dashboard expires (and presumably either is set back to "Do not publish" or we have a temporary Dashboard publishing option "Expired"), that if the user selects to "Publish on a schedule", the prior publish options/configuration is remembered and used as the default/persisted. Customers who are on vacation and miss the publish expiration message or who did not set up a publish expiration notification expressed frustration that their prior publish configuration options are lost in Legacy dashboards.
Customers would prefer not to have an expiration (e.g., have the option to continue to publish indefinitely with a periodic notification to let them know it is still being published). However, development feels strongly that we need to still have some time limit. So instead, keep an expiration and the corresponding "Notify dashboard publisher <n> days before expiration" option, however instead of a specific expiration date, allow the user to select the number of publications before expiration. For example, expire after 24 publications and if the publish is set to every two months, that would carry the dashboard through 4 years. Once number of publications are saved/updated, show in-screen text with approximate date of expiration (given first publish date, frequency, and number of publications). Limit on number of publications TBD. See wireframe for example controls and behavior.
you can configure PPM Pro to send a notification in advance of the URL expiration date by checking the setting Notify dashboard publisher N publications before expiration date. When this setting is checked, a notification email will be sent to the dashboard owner at the specified number of publications prior to the dashboard expiring. You can update the expiration date at any time.
The email message body will be:
The dashboard <Dashboard Title> will expire in <n> days
Click the link to view publish details: <link>
Setting a Dashboard Publishing Schedule
You can optionally set up a publishing schedule along with optional alerts.
You can configure a publishing schedule for any dashboard. The schedule determines how often to rerun and republish the dashboard automatically, helping dashboard owners streamline their end of day, week, or month reporting. Remember that dashboards are a snapshot of data in time. If a dashboard is set to be published weekly, say, on Sunday at 7am, the data you're looking at on the following Wednesday was last updated then. To see current data, rerun the selected dashboard (provided you're a user with visibility rights to the dashboard).
Click the checkbox next to Configure publishing schedule (see screenshot below). Use the scheduling settings that appear to configure the publishing schedule.
Dashboard Publication Alerts
After you configure the publishing schedule, you can notify individual users each time the dashboard is re-published by entering their email addresses in the Notification Email Address(es) section; you can use a distribution list to notify a larger number of users, provided the list is configured for use outside of your company domain. Separate email addresses with comma(,) or semi-colon(;). List of email addresses cannot exceed 500 characters. Message maximum is 4000 characters. Create a custom subject/message using the Email Subject and Email Message fields, respectively; a link to the published dashboard will be included below the message. The message fields are disabled until at least one email address is entered.
The recipient(s) will receive an email notification each time the dashboard is automatically republished (alerts are not sent if the dashboard is manually republished). The sender should always be alerts@ppmpro.com. You can put this sender or the ppmpro.com domain on your allowlist.

Resetting the access code or expiration date
Note: Can be done only by the user who published the dashboard.
Navigate to the Dashboard List page.
Select the dashboard you wish to modify and click the Published icon .
In the Publish Options dialog that appears, enter a new access code and/or expiration date.
Click Save.