Always On Challenge
Last updated
Introduction
How long does a challenge need to be set to for it to be considered always on? When a challenge is set for a duration in excess of 730 days, the timer is removed from both the challenge tile and the challenge Overview page. Each tile also contains a Statistics section, which is anchored at the lower edge of the tile. (The stats on the home page include "views". This is idea views.)
How it works
The Always On Challenge provides an open forum for ideation and collaboration. Participants can submit ideas, comment and vote as inspiration strikes, making this type of challenge well matched for areas of your business that demand continuous improvement.
Always On Challenge Process
While IdeaPlace can be fully customized, we've prepared specific configurations and processes that leverage best practices and align with pre-built templates, to make things quick and easy for you. It is recommended to review your email templates before launching, to ensure accuracy with your planned process.
Please contact your Customer Service representative prior to use.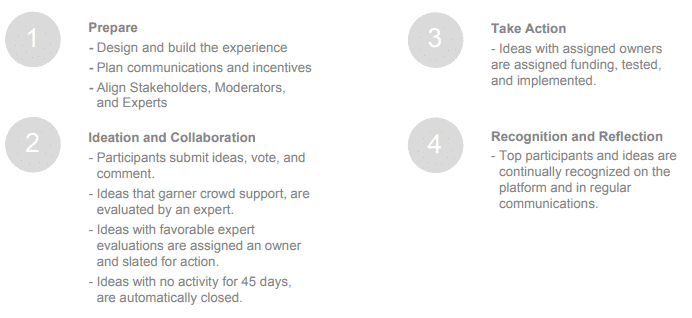 The following video will walk you through the Always On Challenge:
The following resources are available to help you with your Always On Challenge: