Activity Feed Widget
Last updated
Introduction
The Activity Feed page provides site users with quick access to lists of their activities from the current community and child challenge communities. Choose an icon to display your activity, activity of things you are following, or all activity in the community. By default, the last two options are selected.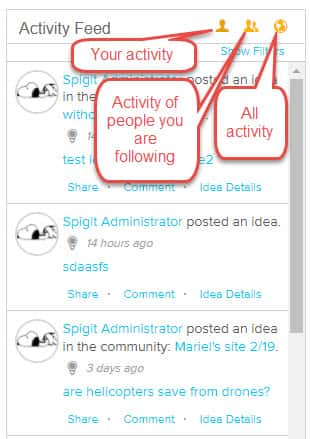 Activity Feed events appear sequentially as they are received with the most recent event at the top.
The Activity Feed page becomes the home page after the user's first login. This behavior can be modified using the Site Editor to change the page setup.
NOTE
In Site Editor, this widget is called Activity and activity_stream_widget. It was previously called Activity Stream.
The default settings for the Activity Feed widget are as follows:
My Stuff
If you have no activity - Following
If not following anyone - Global.
The reasoning behind these settings is that you would most likely be more interested in seeing your ideas and people you are following before looking at global activity.