Share With email template
Last updated
This email template lets you share Ideas to Non-Registered Users. Following the enhancement to the Idea Quick View, which added the ability to share an idea from the pop up, we have adding new functionality to enhance users' collaboration experience.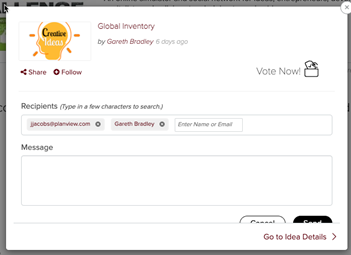 When sharing an idea, you now have the option to enter an email address or search for a registered user. The latter functionality is unchanged and will generate a lookup once you enter three characters.
When entering an email address, enter the address and then press the Enter key once you have have completed the email address. This will allow the application to run a check for completeness and enter the email address into a grey "pill-shaped" box, which confirms a correct entry (Figure 1).
The application will then allow for a custom message to be entered. This will be contained within this new email template which has been created to support the new functionality.
The email template is enabled by default and offers the standard configuration options to administrators. The email itself is designed to provide simple signposting back to the application, but this message can of course be updated.
The template supports a variety of variables: link, relink, inviter, nodetitle, message, unsubscribe, website, sitename, applicationname, webadminemail, infoemail, and idealabel.
Please note that if a user receives the email via the email share, they will still require access to the application or individual challenge. If they do not have access or cannot create an account, they will not be able to access the application to view the idea.
In the November 3rd, 2022 release, the entire feature is limited the English language (en_US & en_UK) with all Tier One languages being added in the next weekly release.