Current Month's Release Notes
Last updated
What is Data Driven Innovation? Find out here.
The November 2021 PBIX Update can be viewed here.
Custom fields are now available in a pivoted format within the Power BI Embedded interface.
Planview Sunsets Support for Legacy Excel Reports. Details are available here.
Welcome to the Planview IdeaPlace's Current Month's Release Notes page. Here you will find everything you need to know about the current month's releases. As of 9/22/2020 IdeaPlace now has a weekly release cadence. (See this article for more information.) Additionally, the IdeaPlace Release Note Archives contain information on releases going back to 4.0, and the TeamTap Release Note Archives contain information on releases going back to Fall, 2021.
TeamTap Release Notes
October 5, 2022
TeamTap Notifications
Following the launch of the notifications for TeamTap, we have now implemented an unsubscribe capability which synchronizes both IdeaPlace (f.k.a Spigit) and TeamTap preferences.
On each email that is generated from activity within TeamTap, a new section is added to the email:
If a user clicks the "here" hyperlink, they will be taken through an authentication check before arriving at their Settings page. This is the same section that can be accessed from the profile dropdown.
While this section is contained within the IdeaPlace application and accessed from within the IdeaPlace profile, it is tethered to the TeamTap notification feature.
The unsubscribe option leverages the Never radio button option that is shown in Figure 3 below. This is the only option that will synchronize with TeamTap at this point. In order to maintain the dynamic experience in TeamTap, we will continue to notify users instantly of updates.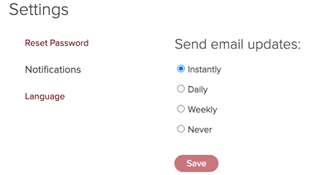 Tap Closure UI
We continue to deliver user interface enhancements that leverage the next generation Planview Design System. In this release, we have implemented new radio and action buttons in the Tap Closure modal (pop up).
IdeaPlace Release Notes
October 5, 2022
Security Update
LeaderboardJdbcDao.java – Following the Checkmarx SAST scan dated 24-JAN-2022, we have been working to remediate some findings related to the content management service files.
This specific fix remediates possible SQL injections in the LeaderboardJdbcDao.java. Specifically, when using the getIdeasWithHighestStockPrice(), it now includes the tag within the arguments array instead of appending it to the SQL.