How to Share a Tap
Last updated
You can share your own or another person's Tap with Registered Users.
On a Tap's Home page, click the Share icon.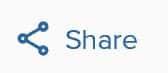 A popup will appear. When you click in the blank area under Select users by name, a dropdown will appear. Select all appropriate names and click the Send button. TeamTap will list the total number of users to whom you've sent the invitation.