Introduction
You can save an idea as a draft and publish it later; just click the Save Draft button at the bottom of the New Idea page.

How it Works
The draft idea will appear in your user profile, under the Ideas tab. Draft ideas will display here regardless of additional configuration needs.
When you save an idea as a draft, your user dropdown menu will automatically be updated with an "i" icon. This icon will appear only after the page has been refreshed, and the draft has been stored against the your profile.
The icon includes a "hover over" which indicates the total of draft ideas in your profile that can be accessed.
How to view your Draft Ideas
To access the drafts, you simply needs to click the "i" to be taken via a link straight to the ideas section of the activity panel within your profile.
The icon will remain visible until you post the idea to the challenge. Should the delete idea option be available, deleting the idea will also remove the icon from the drop down menu.
If you log out of the application, upon your next login, you will be informed of your draft ideas through a dialog box that appears immediately after login. The dialog message informs you of the number of draft ideas you have as well as a direct link to your profile.

You can also view your Draft Ideas by clicking on your avatar, then:
1. Click View Profile.
2. Click Activity > Ideas tab.
3. Click the Draft link.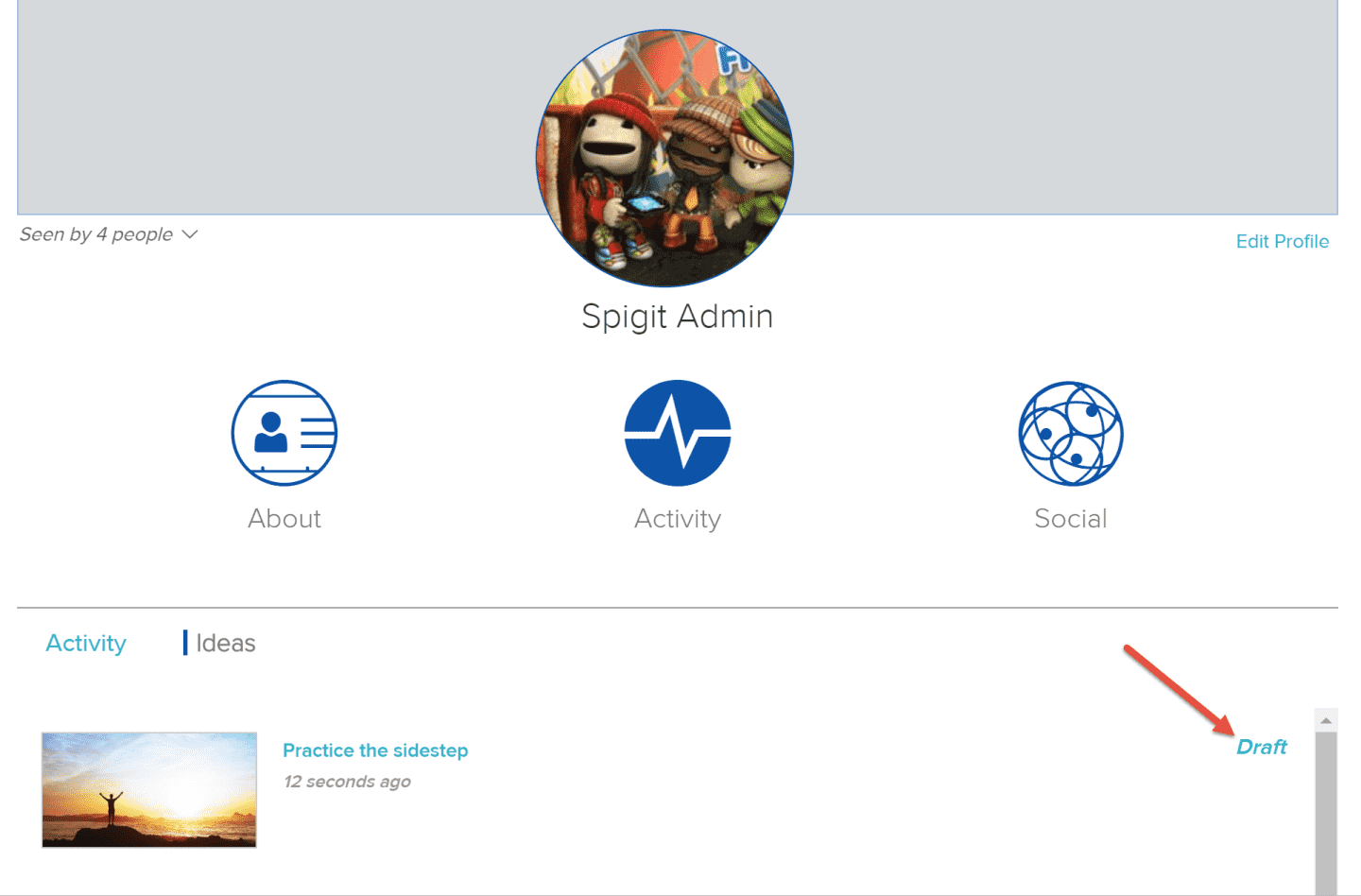 More information about User Profile components and functionality is available.
NOTE
Administrators must check the checkbox in Idea Management > Idea Settings called Show Idea Stages Link at the bottom of the page in order for Draft Ideas to display.
NOTE
If you have a draft idea and you want to edit it, you cannot do so unless the Edit option is enabled for the phase when you are trying to do it.