October/November 2022 Release Notes
Last updated
TeamTap Release Notes
October 5, 2022
TeamTap Notifications
Following the launch of notifications for TeamTap, we have now implemented an unsubscribe capability which synchronizes both IdeaPlace (f.k.a Spigit) and TeamTap preferences.
On each email that is generated from activity within TeamTap, a new section is added to the email:
If a user clicks the "here" hyperlink, they will be taken through an authentication check before arriving at their Settings page. This is the same section that can be accessed from the profile dropdown.
While this section is contained within the IdeaPlace application and accessed from within the IdeaPlace profile, it is tethered to the TeamTap notification feature.
The unsubscribe option leverages the Never radio button option that is shown in Figure 3 below. This is the only option that will synchronize with TeamTap at this point. In order to maintain the dynamic experience in TeamTap, we will continue to notify users instantly of updates.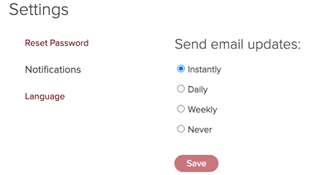 Tap Closure UI
We continue to deliver user interface enhancements that leverage the next generation Planview Design System. In this release, we have implemented new radio and action buttons in the Tap Closure modal (pop up).