Creating a Custom Registration Form
Last updated
Introduction
When an Administrator wants to allow users to self-register, they use Registration Modes to choose a registration method.
How it Works
When a user navigates to the registration page at https://XXX.spigit.com/XXX/User/Login#/login/register// they will be prompted to complete the form in the image below. This form can be customized using the noted configuration in the sample code that follows.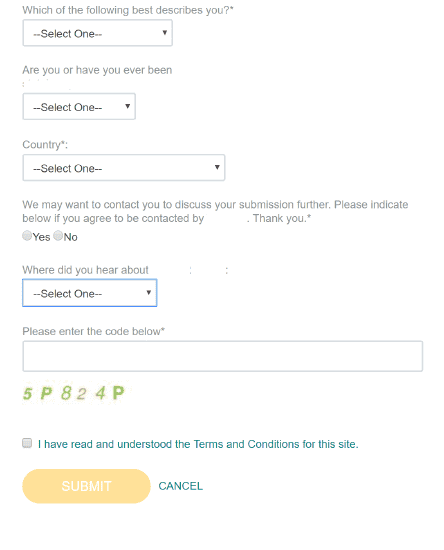 How to Create a Custom Registration Form
NOTE
Let the support team know when you've updated the configurations so they can review and confirm the changes.
Navigate to User Management > User Settings > User Registration Questions.
Replace default code in the box with the code listed below. Replace variables in

RED

with your own particular values.
Data Dictionary
Examples for Desc1 through Desc5 might be Employee, Student, Mechanic, Programmer, etc. Description 1 through Description 5 would be a slightly expanded version of the description, such as JAVA Programmer.
Examples for Desc6 might be Gourmet, with an associated yes/no/prefer not to answer question, such as, "Would you describe yourself as a foodie?" Note that desc6, two lines later, needs to be lower case, as in gourmet.
If you would like a Country selector, one is provided in the code below. Additional customizations such as, "How did you hear about the challenge?" are also provided. Include or delete these as desired.
Sample Code:
<li class="formtitles" style="list-style-type: none;">
<label for="RegType" style="font-weight:400;">Which of the following best describes you?* </label></li>
<select name="regtype" id="regtype">
<option value="">--Select One--</option>
<option value="Desc1">Description 1</option>
<option value="Desc2">Description 2</option>
<option value="Desc3">Description 3</option>
<option value="Desc4">Description 4</option>
<option value="Desc5">Description 5</option>
<option value="Other">Other</option>
</select>
</li>
<br/><br/>
<li class="formtitles" style="list-style-type: none;">
<label for="Desc6" style="font-weight:400;">Question regarding Desc6?*:</label></li>
<li class="formtitles" style="list-style-type: none;">
<select name="desc6" id="desc6">
<option value="">--Select One--</option>
<option value="Yes">Yes</option>
<option value="No">No</option>
<option value="Prefer not to say">Prefer not to say</option>
</select>
</li>
<br/>
<li class="formtitles" style="list-style-type: none;">
<label for="country" style="font-weight:400;">Country*:</label></li>
<li class="formtitles" style="list-style-type: none;">
<select name="country" id="country">
<option value="">--Select One--</option>
<option value="Afghanistan">Afghanistan</option>
<option value="Albania">Albania</option>
<option value="Algeria">Algeria</option>
<option value="Andorra">Andorra</option>
<option value="Angola">Angola</option>
<option value="Antigua and Barbuda">Antigua and Barbuda</option>
<option value="Argentina">Argentina</option>
<option value="Armenia">Armenia</option>
<option value="Australia">Australia</option>
<option value="Austria">Austria</option>
<option value="Azerbaijan">Azerbaijan</option>
<option value="Bahamas, The">Bahamas, The</option>
<option value="Bahrain">Bahrain</option>
<option value="Bangladesh">Bangladesh</option>
<option value="Barbados">Barbados</option>
<option value="Belarus">Belarus</option>
<option value="Belgium">Belgium</option>
<option value="Belize">Belize</option>
<option value="Benin">Benin</option>
<option value="Bhutan">Bhutan</option>
<option value="Bolivia">Bolivia</option>
<option value="Bosnia and Herzegovina">Bosnia and Herzegovina</option>
<option value="Botswana">Botswana</option>
<option value="Brazil">Brazil</option>
<option value="Brunei ">Brunei </option>
<option value="Bulgaria">Bulgaria</option>
<option value="Burkina Faso">Burkina Faso</option>
<option value="Burma">Burma</option>
<option value="Burundi">Burundi</option>
<option value="Cambodia">Cambodia</option>
<option value="Cameroon">Cameroon</option>
<option value="Canada">Canada</option>
<option value="Cape Verde">Cape Verde</option>
<option value="Central African Republic">Central African Republic</option>
<option value="Chad">Chad</option>
<option value="Chile">Chile</option>
<option value="China">China</option>
<option value="Colombia">Colombia</option>
<option value="Comoros ">Comoros </option>
<option value="Congo, Democratic Republic of the">Congo, Democratic Republic of the</option>
<option value="Congo, Republic of the ">Congo, Republic of the </option>
<option value="Costa Rica">Costa Rica</option>
<option value="Cote d'Ivoire">Cote d'Ivoire</option>
<option value="Croatia">Croatia</option>
<option value="Cuba">Cuba</option>
<option value="Cyprus">Cyprus</option>
<option value="Czech Republic">Czech Republic</option>
<option value="Denmark">Denmark</option>
<option value="Djibouti">Djibouti</option>
<option value="Dominica">Dominica</option>
<option value="Dominican Republic">Dominican Republic</option>
<option value="East Timor (Timor-Leste)">East Timor (Timor-Leste)</option>
<option value="Ecuador">Ecuador</option>
<option value="Egypt">Egypt</option>
<option value="El Salvador">El Salvador</option>
<option value="Equatorial Guinea">Equatorial Guinea</option>
<option value="Eritrea">Eritrea</option>
<option value="Estonia">Estonia</option>
<option value="Ethiopia">Ethiopia</option>
<option value="Fiji">Fiji</option>
<option value="Finland">Finland</option>
<option value="France">France</option>
<option value="Gabon">Gabon</option>
<option value="Gambia, The">Gambia, The</option>
<option value="Georgia">Georgia</option>
<option value="Germany">Germany</option>
<option value="Ghana">Ghana</option>
<option value="Greece">Greece</option>
<option value="Grenada">Grenada</option>
<option value="Guatemala">Guatemala</option>
<option value="Guinea">Guinea</option>
<option value="Guinea-Bissau">Guinea-Bissau</option>
<option value="Guyana">Guyana</option>
<option value="Haiti">Haiti</option>
<option value="Holy See">Holy See</option>
<option value="Honduras">Honduras</option>
<option value="Hong Kong">Hong Kong</option>
<option value="Hungary">Hungary</option>
<option value="Iceland">Iceland</option>
<option value="India">India</option>
<option value="Indonesia">Indonesia</option>
<option value="Iran">Iran</option>
<option value="Iraq">Iraq</option>
<option value="Ireland">Ireland</option>
<option value="Israel">Israel</option>
<option value="Italy">Italy</option>
<option value="Jamaica">Jamaica</option>
<option value="Japan">Japan</option>
<option value="Jordan">Jordan</option>
<option value="Kazakhstan">Kazakhstan</option>
<option value="Kenya">Kenya</option>
<option value="Kiribati">Kiribati</option>
<option value="Korea, North">Korea, North</option>
<option value="Korea, South">Korea, South</option>
<option value="Kosovo">Kosovo</option>
<option value="Kuwait">Kuwait</option>
<option value="Kyrgyzstan">Kyrgyzstan</option>
<option value="Laos">Laos</option>
<option value="Latvia">Latvia</option>
<option value="Lebanon">Lebanon</option>
<option value="Lesotho">Lesotho</option>
<option value="Liberia">Liberia</option>
<option value="Libya">Libya</option>
<option value="Liechtenstein">Liechtenstein</option>
<option value="Lithuania">Lithuania</option>
<option value="Luxembourg">Luxembourg</option>
<option value="Macau">Macau</option>
<option value="Macedonia">Macedonia</option>
<option value="Madagascar">Madagascar</option>
<option value="Malawi">Malawi</option>
<option value="Malaysia">Malaysia</option>
<option value="Maldives">Maldives</option>
<option value="Mali">Mali</option>
<option value="Malta">Malta</option>
<option value="Marshall Islands">Marshall Islands</option>
<option value="Mauritania">Mauritania</option>
<option value="Mauritius">Mauritius</option>
<option value="Mexico">Mexico</option>
<option value="Micronesia">Micronesia</option>
<option value="Moldova">Moldova</option>
<option value="Monaco">Monaco</option>
<option value="Mongolia">Mongolia</option>
<option value="Montenegro">Montenegro</option>
<option value="Morocco">Morocco</option>
<option value="Mozambique">Mozambique</option>
<option value="Namibia">Namibia</option>
<option value="Nauru">Nauru</option>
<option value="Nepal">Nepal</option>
<option value="Netherlands">Netherlands</option>
<option value="Netherlands Antilles">Netherlands Antilles</option>
<option value="New Zealand">New Zealand</option>
<option value="Nicaragua">Nicaragua</option>
<option value="Niger">Niger</option>
<option value="Nigeria">Nigeria</option>
<option value="Norway">Norway</option>
<option value="Oman">Oman</option>
<option value="Pakistan">Pakistan</option>
<option value="Palau">Palau</option>
<option value="Palestinian Territories">Palestinian Territories</option>
<option value="Panama">Panama</option>
<option value="Papua New Guinea">Papua New Guinea</option>
<option value="Paraguay">Paraguay</option>
<option value="Peru">Peru</option>
<option value="Philippines">Philippines</option>
<option value="Poland">Poland</option>
<option value="Portugal">Portugal</option>
<option value="Qatar">Qatar</option>
<option value="Romania">Romania</option>
<option value="Russian Federation">Russian Federation</option>
<option value="Rwanda">Rwanda</option>
<option value="Saint Kitts and Nevis">Saint Kitts and Nevis</option>
<option value="Saint Lucia">Saint Lucia</option>
<option value="Saint Vincent and the Grenadines">Saint Vincent and the Grenadines</option>
<option value="Samoa ">Samoa </option>
<option value="San Marino">San Marino</option>
<option value="Sao Tome and Principe">Sao Tome and Principe</option>
<option value="Saudi Arabia">Saudi Arabia</option>
<option value="Senegal">Senegal</option>
<option value="Serbia">Serbia</option>
<option value="Seychelles">Seychelles</option>
<option value="Sierra Leone">Sierra Leone</option>
<option value="Singapore">Singapore</option>
<option value="Slovakia">Slovakia</option>
<option value="Slovenia">Slovenia</option>
<option value="Solomon Islands">Solomon Islands</option>
<option value="Somalia">Somalia</option>
<option value="South Africa">South Africa</option>
<option value="South Sudan">South Sudan</option>
<option value="Spain ">Spain </option>
<option value="Sri Lanka">Sri Lanka</option>
<option value="Sudan">Sudan</option>
<option value="Suriname">Suriname</option>
<option value="Swaziland ">Swaziland </option>
<option value="Sweden">Sweden</option>
<option value="Switzerland">Switzerland</option>
<option value="Syria">Syria</option>
<option value="Taiwan">Taiwan</option>
<option value="Tajikistan">Tajikistan</option>
<option value="Tanzania">Tanzania</option>
<option value="Thailand ">Thailand </option>
<option value="Togo">Togo</option>
<option value="Tonga">Tonga</option>
<option value="Trinidad and Tobago">Trinidad and Tobago</option>
<option value="Tunisia">Tunisia</option>
<option value="Turkey">Turkey</option>
<option value="Turkmenistan">Turkmenistan</option>
<option value="Tuvalu">Tuvalu</option>
<option value="Uganda">Uganda</option>
<option value="Ukraine">Ukraine</option>
<option value="United Arab Emirates">United Arab Emirates</option>
<option value="United Kingdom">United Kingdom</option>
<option value="United States">United States</option>
<option value="Uruguay">Uruguay</option>
<option value="Uzbekistan">Uzbekistan</option>
<option value="Vanuatu">Vanuatu</option>
<option value="Venezuela">Venezuela</option>
<option value="Vietnam">Vietnam</option>
<option value="Yemen">Yemen</option>
<option value="Zambia">Zambia</option>
<option value="Zimbabwe">Zimbabwe</option>
</select>
</li>
<br/>
<li class="formtitles" style="list-style-type: none;">
<label for="contacttype" style="font-weight:400;">We may want to contact you to discuss your submission further. Please indicate below if you agree to be contacted by YOUR COMPANY NAME. Thank you.*</label></li>
<li class="formtitles" style="list-style-type: none;">
<input type="radio" name="contacttype" id="contacttype" value="Yes" checked="true">Yes</input>
<input type="radio" name="contacttype" id="contacttype" value="No">No</input>
</br>
</select>
</li>
<br/>
<li class="formtitles" style="list-style-type: none;">
<label for="Referral" style="font-weight:400;">Where did you hear about YOUR CHALLENGE NAME*:</label></li>
<li class="formtitles" style="list-style-type: none;">
<select name="referral" id="referral">
<option value="">--Select One--</option>
<option value="Friend">A Friend</option>
<option value="Colleague">A Colleague</option>
<option value="Press">Press Release</option>
<option value="Social">Social Media</option>
<option value="Other">Other</option>
</select>
</li>