Category Moderation
Last updated
How to Enable Category Moderation
Enabling Category Moderation automatically assigns each idea to a Moderator for review before being published. Moderators receive an email notification when an idea has been submitted for approval. Ideas will not be published unless a Moderator approves the idea. If the idea is rejected by the Moderator, it will not be published. In the event of either an approval or a rejection, the idea submitter can be notified via an automated email.
NOTE
When an Administrator submits an idea to a moderated category, it's automatically approved.
To Enable Category Moderation in a New Category
1. Browse to Administration > General Settings > Edit Challenge > Settings Tab > New Category.
2. Populate the fields in the lightbox, and check Moderate Idea.
To Enable Category Moderation for an Existing Category
Browse to Administration > General Settings > Edit Challenge > Settings tab.
Click on the Pencil icon at the end of the list of categories.
On the resulting page, the Innovation Market page, click the More menu on the category you wish to edit.
Select Edit from the dropdown menu.
Check Moderate Idea on the next page. Click the Edit Category button.
To disable Category Moderation at any time, follow the steps above and uncheck Moderate Idea.
Both of the above options will generate an automated email to Moderators for that Category, and you can edit that message according to the instructions below.
Confirm that the "Idea Submission Notice to Administrators and Moderators" Email Template Is Active (or Edit it)
Navigate to Administration > Feature Management > Email Templates.
Under Idea Submission > Submitted Ideas click Idea Submission Notice to Administrators and Moderators.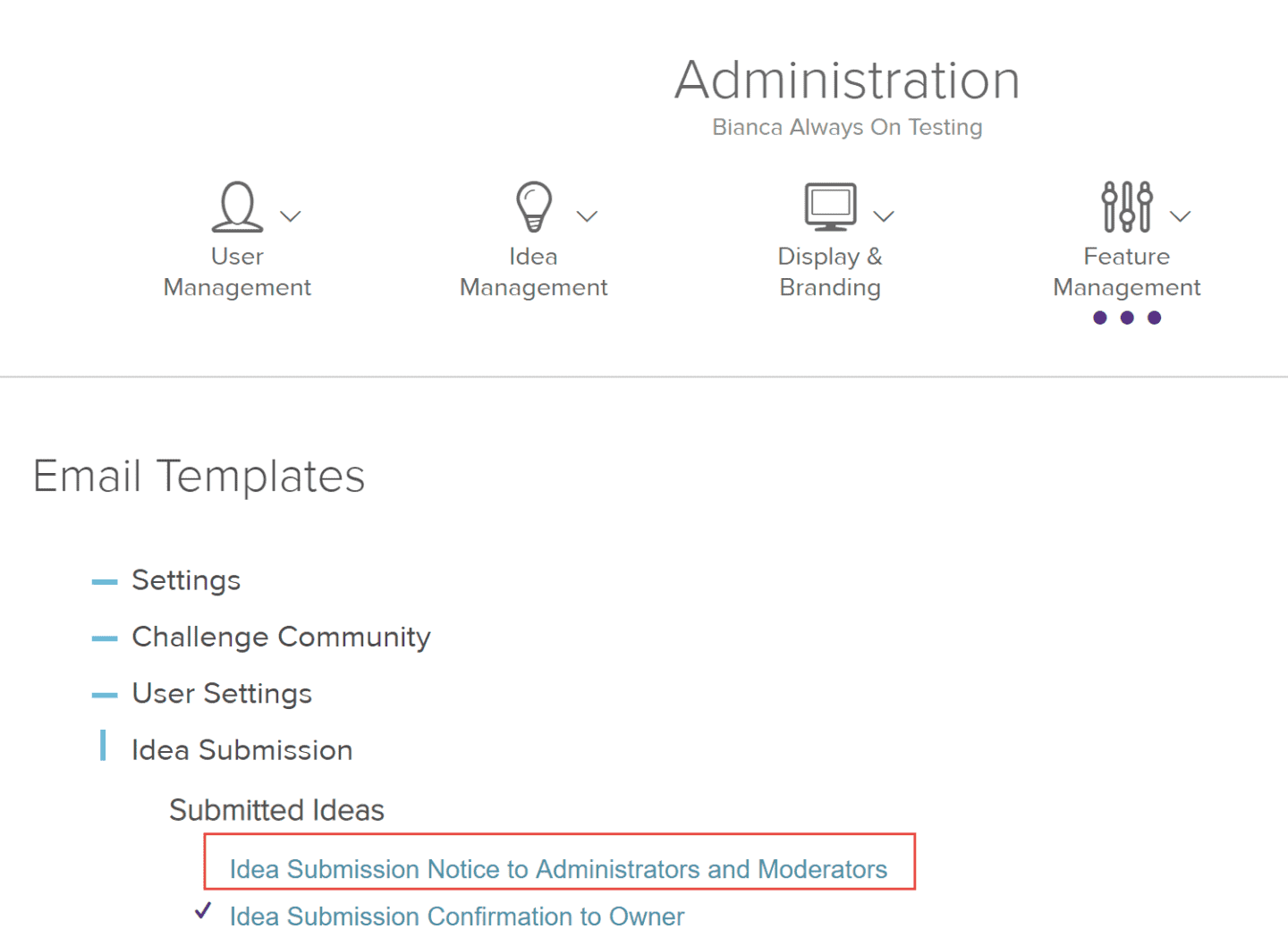 3. If it's not selected, select the Active checkbox in the lower left corner of the popup.
Default Notification
The default notification message to the moderator in Planview IdeaPlace is the following (the idea is called "Formulas"):
From: IdeaPlace Innovation <auto@spigit.com>
Sent: Thursday, July 11, 2019 4:43 PM
To: Moderator Name
Subject: Idea put into moderation - requires approval or rejection.
<user> submitted Formulas idea to be reviewed.
How to Approve or Reject an Idea as a Moderator
Click the link in the notification. You will be taken to the Approve/Reject page. This page can also be accessed from the Moderation drop down in your user profile:
2. Click the Approve button, or, if you will be rejecting the idea, type the reason for rejection and then click Reject.