December 2020 PBIX Update
Last updated
Challenge Visitors - Update
Challenge visitors will now display the user attributes associated with each challenge visitor. This updated relationship will link challenge visitors to all fields contained within the Users folder as well as the new UserCustomFieldLabels.
Displaying Visitor Details
In order to add the visitor details, simply follow the steps below:
Have a challenge title slicer (and/or a time dimension).
Create a visualization that contains userID from the ChallengeVisitors folder.
Add in the userDisplayName and userEmail (as examples) to the table.
The list will now display all visitors to the challenge that fit within the slicer parameters.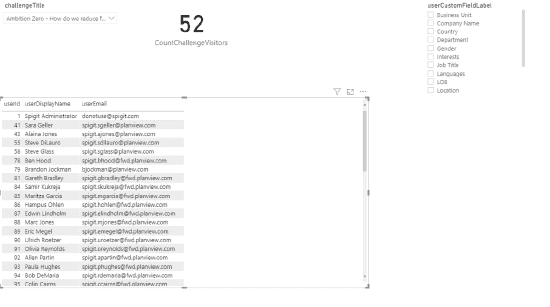 To add the user custom fields to the table, simply follow the steps listed in the userCustomFields section.