Site Navigation via the Go To Menu
Last updated
Overview
The Go To menu in the Planview IdeaPlace header provides an easy route to any other challenge or community that a user has access to. In addition, it provides context by displaying the name of the challenge or community they are currently in, at the top of the menu.
Key Elements
The Go To menu is designed to work in conjunction with the existing Community/Challenge Access control settings.
The menu lists, by default, any Community or Challenge that the user has access to. Therefore, any Community or Challenge that is listed as Private - User Login will be displayed by default.
The Community or Challenge that a user is currently in appears first in the Go To menu, listed under Currently Viewing.
Any Community marked as Hidden inside of the Manage Sites section of Administration will not show inside the Go To menu.
Only challenges with Open status will appear in the Go To menu. There is no support for Draft, Scheduled, Closed, or Archived challenges to be listed here.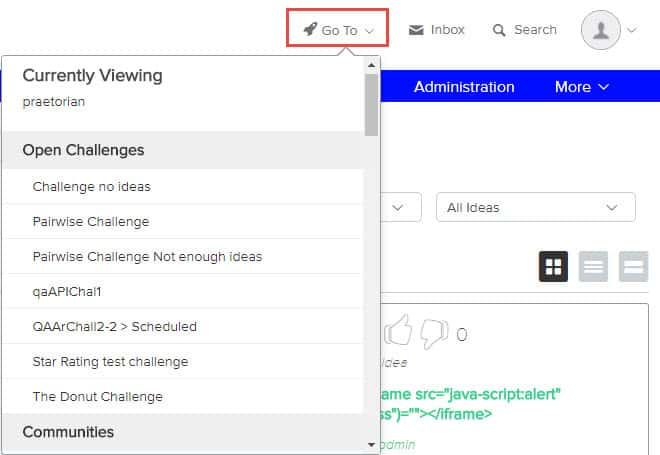 NOTE
There is an option to disable the Go To menu, but the change is instance wide, not per community or challenge. To disable on all communities/challenges, visit the main community: Administration > Display & Branding > Mobile. The change will be applied to desktop & mobile.