Working with Challenge Templates
Last updated
Overview
Once you have finished configuring a challenge, it can be saved as a template. This will reduce future administration time, when you create another challenge with similar configurations.
How It Works
Challenge templates are leveraged when creating a challenge and will copy over all challenge configurations except the following:
Actual Timeline and Start/End Dates (must be edited when creating).
Existing ideas, comments, or participant content.
All Roles are copied over. If you have no saved templates, the parent community configurations will be used.
Challenge Templates: Duration 2 min.
How to Create a Template from a Challenge
From the Challenges page, select and open a challenge you want to save as a template.

In the Challenge preview, click the Edit Challenge button.

On the Edit Challenge page, click Save Template.

To ensure that the template's intended use is clear, add a short title (required) and a description of the template's purpose.

To make this new template the default, click the Set this challenge as the default template box.

Click Save Template.
Managing Multiple Templates
You can create multiple challenge templates, and then manage them by navigating to Admin > General Settings > Challenge Template.
NOTE
You need to be at IdeaPlace Root to do this, not in any challenge.
This opens the Challenge Template administration screen:
On the administration screen, you can set any template as the default.
Under Actions, you can:
View the template's name and description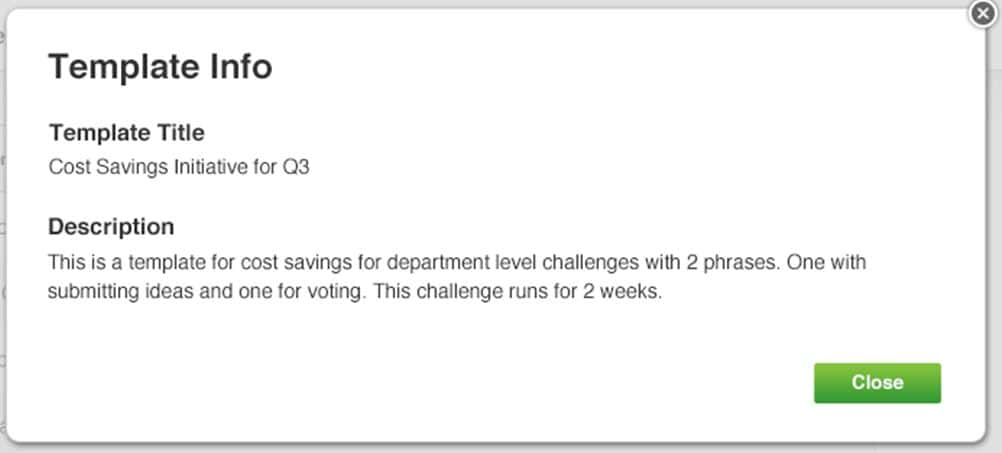 View the challenge on which the template is based

Edit the template's name and description



Remove the template's designation from the challenge.
How to Move a Challenge Template to another Parent if you want to use it elsewhere
1. Change the parent of the template.
2. Create the new challenge.
3. Move the template back to the original parent.
How to Add a Template to a Community
1. Move the challenge template to the desired community.
2. Create a new challenge and save it as a new template.
3. Move the original template back to the original community.
How to Delete Challenge Templates
Site Challenge templates have to be deleted at the community level.
Navigate to the Community from which you wish to delete a challenge template.
Navigate to the Challenge Template administration screen: Administration > General Settings > Challenge Templates.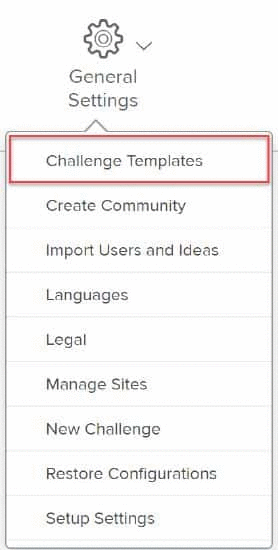 3. Select the radio button of the challenge you wish to delete and click the trash can icon.