Achievements and Endorsements
Last updated
Introduction
The crowd is the lifeblood of any program, and ensuring their collaboration and engagement is a key activity for any program owner. Utilizing new ways to engage the crowd and drive up collaboration is critical to building a transformational innovation culture. Rewards and recognition are a key factor in not only keeping participants engaged in your ideation program but also in evolving the collaboration process from challenge to challenge.
Two avenues for recognizing and rewarding participants are Achievements and Endorsements. Achievements are awarded automatically when participants reach a certain threshold of activity such as the number of ideas submitted, comments created and liked, or votes added. Endorsements provide a way for participants to support and reward one another.
How it Works
Achievements and Endorsements are displayed as badges on a participant's profile page, as well as in the mini-profile that appears when hovering over the participant's name throughout the site. (Administrators DO receive achievement badges, while Super Administrators cannot.)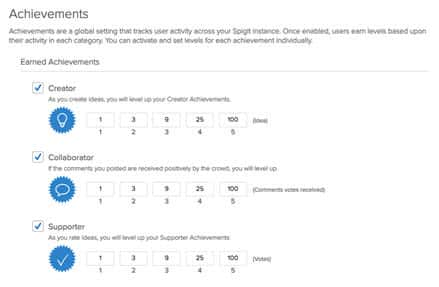 User Achievements
There are three types of Achievement:
Creator - As you create ideas, you will level up your Creator Achievements.
Collaborator - If the comments you post are received positively by the crowd, you will level up. Planview IdeaPlace will count the total number of UPVOTES posted on comments per user.
Supporter - As you vote on ideas, you will level up your Supporter Achievements.
Every type of Achievement contains five levels, each with its own achievement threshold. Super Administrators can set and modify the thresholds for the entire instance through the administration panel in any community or challenge (they're synchronized). The Achievement and Endorsement functionality may be turned on and off using a configuration setting.

Once an achievement is made active, it will be visible across the entire IdeaPlace instance to end users. The primary points of visibility are the Profile and the Mini Profile Hover card.
Once activated, IdeaPlace will calculate the participant's level of achievement based upon their current global activity. This gives even established users a level to strive for or a new badge to gain through their activity.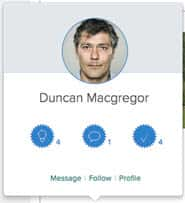 User Endorsements
The ability for a user to collaborate and network within the community is key to longer term engagement. Engendering a sense of community and a common goal helps users to identify with the program, improving ideation and collaboration rates.
The User Endorsements section allows users to provide feedback through a visible badging system. These badges will be centrally controlled by the program owner and will adopt the same visibility rules as the User Achievements badges.
The following badges will be available for activation and endorsement:
Citizen - Awarded to a user who helps others and is a constant in the community.
Maker - A user who is creative and innovative in their posts.
Connector - A user who networks well, helping to connect other users and ideas.
All Star - A user who has gone out of their way to help other users with ideas and concepts.
Once made visible, the badge will appear on each user's profile page. When another user witnesses positive behavior, they will be able to endorse the user by clicking the badge on the user's profile. With each endorsement, the count will increase.
Reporting
The user badge levels are available through our standard reporting engines: Excel-based and Insights.