Share Workspace Templates
Last updated
Once you have created a workspace template, you can start to create new workspaces based on that template. You can also make the workspace template available for others to use; either all users within your ProjectPlace account, or with selected users.
To share a workspace template: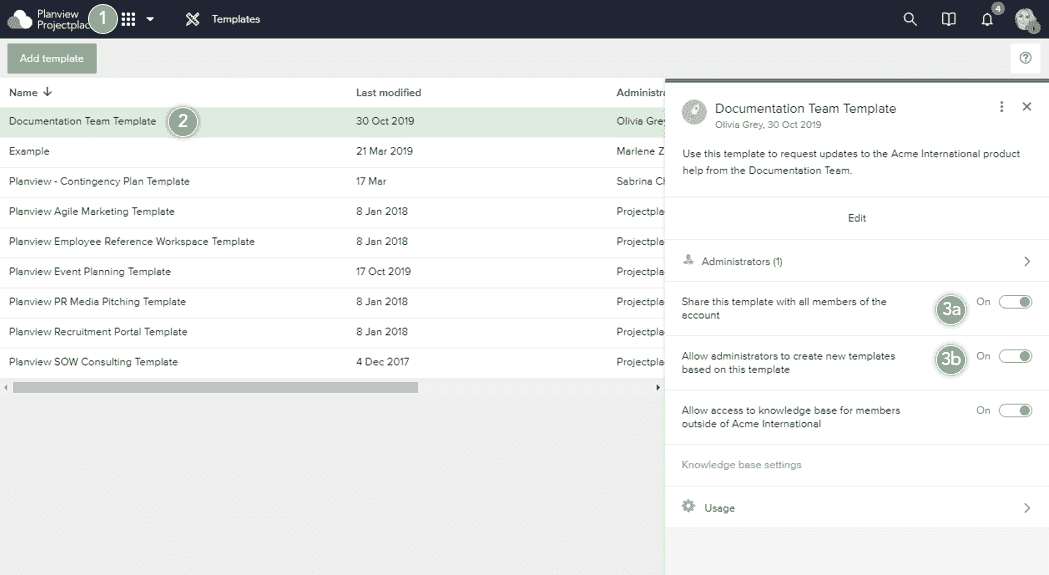 Click the tool selector and select the Workspace templates tool.
From the new window that appears, select the name of the workspace template you want to distribute from the available list.
In the detail pane that appears, select how you want to distribute the workspace template:

Click the toggle switch to turn on (or off) the Share this template with all members of the account option giving (or preventing) template access to all users in the account. Turn this option to on when syncing ProjectPlace with other products in the platform, such as IdeaPlace, to make workspace templates available to users working with the connector.
Optionally, click the toggle switch to turn on (or off) the ability to Allow administrators to create new templates based on this template option allowing (or preventing) easier duplication of templates. By default, new templates cannot be created from template-based workspaces. This option overrides that restriction.
A template developed for a specific type of project, market segment, or usage scenario can be commercially distributed to third parties. By entering a distribution agreement with ProjectPlace, our payment system can be activated to charge customers for the usage of a template. Please contact the ProjectPlace sales department to set up a distribution agreement.
---