July 2021 - Deutsch
Last updated
English | Deutsch | Svenska | Français
28. Juli 2021
Kontrollkästchen "Alles markieren" in Filterbereichen
Bei Verwendung eines Filters mit einer langen Liste an auswählbaren Elementen kann die Liste durch Eingabe eines Suchbegriffs in das Textfeld über dem Filterabschnitt eingeschränkt werden. (Das Textfeld wird angezeigt, wenn in der Liste zehn oder mehr Optionen zur Auswahl stehen.) Um das Filtern weiter zu vereinfachen, haben wir das Kontrollkästchen "Alles markieren" hinzugefügt, mit dem nach der Eingabe eines Suchbegriffs alle in der Liste angezeigten Elemente ausgewählt werden können.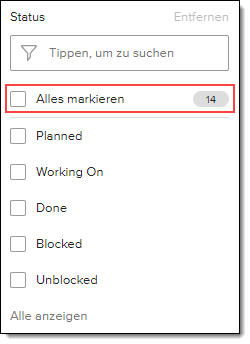 Globale Pläne-ID in der Excel-Exportdatei für Pläne
Die Excel-Exportdatei für Pläne enthält nun eine neue Spalte, in der die interne eindeutige globale Pläne-ID angezeigt wird. Diese ID kann beispielsweise als Aktivitäts-ID in der Kartenimportdatei angegeben werden, wenn Karten in der Importdatei mit Aktivitäten, die mit dem Board verbunden sind, verknüpft werden sollen.
Weitere Informationen zur Excel-Exportdatei für Pläne finden Sie unter Export and Print the Plan (Pläne exportieren und drucken).
29. Juli 2021
Neue Seite "Berichte" für Arbeitsbereiche
Wir fügen eine brandneue Seite Berichte für Arbeitsbereiche hinzu, auf der Sie detaillierte Informationen über den Fortschritt und Status von Arbeitsbereichen anzeigen können.
Arbeitsbereichsadministratoren können die Ansicht anpassen, indem sie die Widgets auf der Seite verschieben, neu anordnen und ein- und ausblenden.
Die ersten verfügbaren Berichts-Widgets zeigen eine Zeitleiste, die Arbeitsbereichsbeschreibung und den Fortschritt. Weitere Widgets werden nach und nach hinzugefügt.
Ein eigenständiges Widget für Freitextnotizen steht zur Eingabe relevanter Statuskommentare rund um den Bericht zur Verfügung.
Berichte können über einen Link zu einer öffentlichen Version des Berichts mit externen Stakeholdern geteilt werden.
Weitere Informationen zur Seite "Berichte" finden Sie unter Follow-up on Work Progress (Arbeitsfortschritt nachverfolgen).
Globale Dokumentvorlagen
Kontoadministratoren können jetzt eine Reihe globaler Dokumentvorlagen definieren und diese in allen Arbeitsbereichen des Kontos in den Dokumentvorlagen veröffentlichen. Mit dieser Funktion können Sie verschiedene Unternehmensvorlagen oder Richtliniendokumente erstellen und teilen, die in der gesamten Organisation angewendet werden sollen.
Wenn eine globale Dokumentvorlage von Kontoadministratoren aktualisiert wird, werden in den veröffentlichten Vorlagen in allen Arbeitsbereichen diese Aktualisierungen unmittelbar widergespiegelt.
Weitere Informationen zu globalen Dokumentvorlagen finden Sie unter Manage Global Document Templates (Globale Dokumentvorlagen verwalten).
---