English | Deutsch | Svenska | Français
6 april 2022
Bifoga filer från din SharePoint-sajt i Android-mobilappen
När användare lägger till bilagor till kort, aktiviteter, milstolpar, etc. från Android-mobilappen, kan de nu välja filer från deras SharePoint-sajt. Observera att detta bara är synligt för de konton som har SharePoint-integrationen aktiverad. Detta släpptes nyligen för iOS-mobilappen men är nu även tillgänglig för Android-mobilappen.
Projectplace finns på App Store och på Google play.
Ny detaljpanel för arbetsyteinformation i en portfölj
Vi fortsätter att göra användargränssnittet mer enhetligt med resten av vår tjänst och den här gången har vi uppdaterat detaljpanelen för arbetsyteinformation som du hittar i den enskilda portföljvyn.
13 april 2022
Bilagor kan läggas till på kort med Outlook-Add-in
Outlook-Add-ins för Projectplace stöder nu möjligheten att lägga till bilagor från ett e-postmeddelande till ett kort som en bilaga. Som standard kommer bilagor läggas till på kortet men användaren kan välja att även skapa ett kort utan bilagor genom att avmarkera de bilagor som inte ska läggas till.
För mer information, besök Work with the Microsoft Outlook Add-In (Arbeta med Microsoft Outlook-Add-In)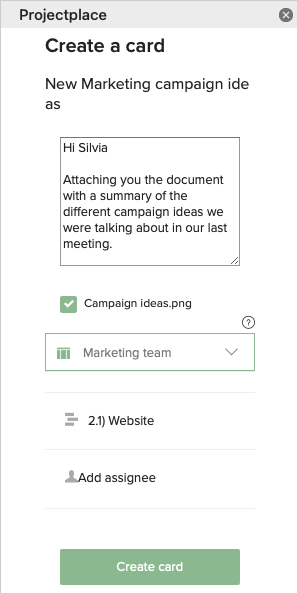 20 april 2022
Det finns inga nya uppdateringar för denna vecka.
28 april 2022
Det finns inga nya uppdateringar för denna vecka.
4 maj 2022
Uppdateringar i Beläggningsverktyget
Vi har sett över och förbättrat Beläggningsverktyget. De viktigaste ändringarna i denna release är:
Arbetsyteadministratörer och Team-ägare blir numera automatiskt behöriga till Beläggningsverktyget tillsammans med medlemmar som har tillgång till Beläggningsverktyget och kontoägare/administratörer.
Kapacitets- och tilldelningsvyn i tidslinjen tar hänsyn till kortets start- och slutdatum och fördelar tidsuppskattning och resurskapacitet inom den tidsramen.
Den nya listvyn ger en möjlighet att navigera ner till en enskild arbetsyta och se korten medlemmarna är tilldelade.
Kontoadministratörer kan nu ställa in veckokapaciteten för kontomedlemmar från Beläggningsverktyget. Vid uppdatering av veckokapaciteten blir kontomedlemmen notifierad om detta.
Vi har slagit samman de två tidigare vyerna "Kapacitetsvy" och "Kortvy" till en gemensam vy.
Den första delen av Beläggningsverktyget har nu släppts och vi planerar att fortsätta att lägga till mer funktionalitet till vårt filter, lägga till ny detaljpanel och mycket mer i de kommande releaserna.
Mer information finns i Work with the Workload tool (Arbeta med Beläggningsverktyget).