English | Deutsch | Svenska | Français
6. April 2022
Mobile App für Android: Dateien aus SharePoint-Repository anhängen
Beim Hinzufügen von Anhängen zu Karten, Aktivitäten, Meilensteinen usw. in der mobilen App können Benutzer jetzt Dateien aus ihrem SharePoint-Repository auswählen. Beachten Sie, dass dies nur für Konten gilt, für die die SharePoint-Integration aktiviert ist. Diese Funktion wurde vor Kurzem für iOS veröffentlicht und ist jetzt auch in der mobilen App für Android verfügbar.
Projectplace ist im App Store und bei Google Play verfügbar.
Neuer Bereich für Arbeitsbereichsdetails innerhalb eines Portfolios
Wir arbeiten weiter an der Vereinheitlichung unserer Benutzeroberfläche und haben nun den Bereich für Arbeitsbereichsdetails aktualisiert, den Sie in der Ansicht einzelner Portfolios anzeigen können.
13. April 2022
Anhänge über das Add-In für Outlook zu Karten hinzufügen
Sie können jetzt über das Projectplace Add-In für Outlook Anhänge aus einer E-Mail zu einer Karte hinzufügen. Anhänge aus E-Mails werden standardmäßig zu Karten hinzugefügt. Benutzer können jedoch auch Karten ohne Anhänge erstellen, indem sie die Anhänge deaktivieren, die nicht hinzugefügt werden sollen.
Weitere Informationen finden Sie unter Work with the Microsoft Outlook Add-In (Mit dem Add-In für Microsoft Outlook arbeiten).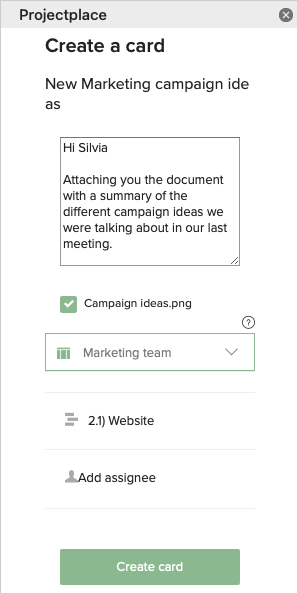 20. April 2022
In dieser Woche wurden keine Feature-Updates implementiert.
28. April 2022
In dieser Woche wurden keine Feature-Updates implementiert.
4. Mai 2022
Updates für das Arbeitspensum-Werkzeug
Wir haben das Arbeitspensum-Werkzeug überholt. Folgendes sind die wichtigsten Änderungen:
Arbeitsbereichs- und Teamadministratoren erhalten zusammen mit Arbeitspensum-Managern und Kontoinhabern/-administratoren Standardzugriff auf das Arbeitspensum-Werkzeug.
Die Anzeige von Kapazität und Tätigkeiten in der Zeitleiste berücksichtigt das Start- und Enddatum der Karte und verteilt Schätzung und Ressourcenkapazität über diesen Zeitraum.
Die neue Listenansicht ermöglicht es, einzelne Arbeitsbereiche und die jeweiligen Tätigkeiten für Mitglieder genauer zu betrachten.
Kontoadministratoren können jetzt die wöchentliche Kapazität von Kontomitgliedern über das Arbeitspensum-Werkzeug festlegen. Wird die wöchentliche Kapazität aktualisiert, wird das Kontomitglied darüber informiert.
Wir haben die beiden separaten Ansichten "Kapazitätsansicht" und "Kartenansicht" in einer Ansicht zusammengefasst.
Die erste Aktualisierung des Arbeitspensum-Werkzeugs wurde jetzt veröffentlicht. Für die kommenden Releases planen wir u. a. neben der gleichzeitigen Übertragung mehrerer Tätigkeiten auch die Übertragung einzelner Tätigkeiten zu ermöglichen sowie weitere Filteroptionen und neue Detailbereiche hinzuzufügen.
Weitere Informationen finden Sie unter Work with the Workload tool (Mit dem Arbeitspensum-Werkzeug arbeiten).