Use ProjectPlace with Zoom
Last updated
To help virtual teams collaborate efficiently, we've integrated Zoom with ProjectPlace. Using this integration, ProjectPlace users can conduct online meetings with their account members.
Start a Zoom Meeting
To start a Zoom meeting:
Click the Start Zoom meeting icon in the top right corner of the screen.
2. In the Start instant meeting window, do one of the following:
a. Invite people via email: In the Add members field, type the name of the groups, account members, or email addresses you want to invite to the meeting, and add a description that you would like to appear in the email invitation.
b. Invite people via link: Click Share a link with participants and click Copy
to copy the meeting URL to your clipboard. Then share the URL with the desired participants.
3. Click Start meeting.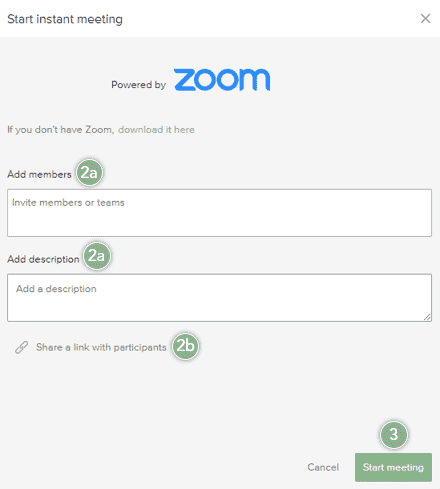 A maximum of 300 people can join a meeting.
Enable Zoom Meetings
To enable Zoom meetings for the account:
Click the tool selector in the top navigation bar and select Account Administration.
On the Overview tab, click Settings and select the Third party software data access option.

In the window that appears, click the toggle to the on position (if not already on).
Select the Online meetings option (if not already selected).
Click Save.
Privacy and Security
The integration between Zoom and ProjectPlace is encrypted and secure; we protect our customer and user data by adhering to industry standards. Read the security statement on our partnership with Zoom here. While using Zoom, you are subjected to Zoom's privacy policy.
To ensure the best experience for our users working with Zoom meetings, we send each user's first and last name to Zoom so it can be displayed as their screen name during the meeting.
Proxy Server Settings for Zoom
Click here to know more about the network firewall and proxy server settings for Zoom.
---