Set Board User Access and Roles
Last updated
In LeanKit's Select edition or higher, users can be assigned permissions to perform actions on a board based on the user role that they are assigned for that board.
Board User Roles
No Access - may not view or perform any operations associated with the board.
Reader - may view information on the board and create cards via email and Quick Create, but they may not update or modify any of the information and may not edit or move cards. Readers are able to subscribe to board, lane and card events. Readers can also view board reports.
User - may view the board, create, edit, and move cards, but they may not perform management or administrative operations on the board, such as changing the board layout or WIP limits.
Manager - in addition to the rights of a board "User", managers may perform management operations such as changing the board layout and WIP Limits.
Administrator - has permissions to perform all activities associated to the board. This includes board configuration editing, user administration for the board, as well as typical user activities.
TIP
The Board Administrator role is not the same as the Account Administrator role. Board Administrators are only administrators at the board level. Account Administrators are able to create, edit, and delete boards and create, enable, disable, and edit users (including making other users Account Administrators). They can also configure certain security settings and export usage and access reports.
Account Administrators have access to all boards on the Account, regardless of the access they are assigned on individual boards. There is always at least one user assigned as an Account Administrator in a Planview LeanKit account, and more can be assigned at any time.
Set Board User Access
From within a board, click the gear icon in the top bar and then click Board Settings.
In the Board Settings window, click the Board User Access tab. This provides a listing of all the users in the account and the roles that they currently hold on that board. Here you see a paged list of all available users, with their Names, Roles, and Work In Progress (WIP) limits.
To set or change a user's board access, first click the checkmark next to the user or users you want to edit and click Edit Selected.
From there, use the dropdown beneath Board Roles to select the role you would like to assign this user. Then click Save when you're done.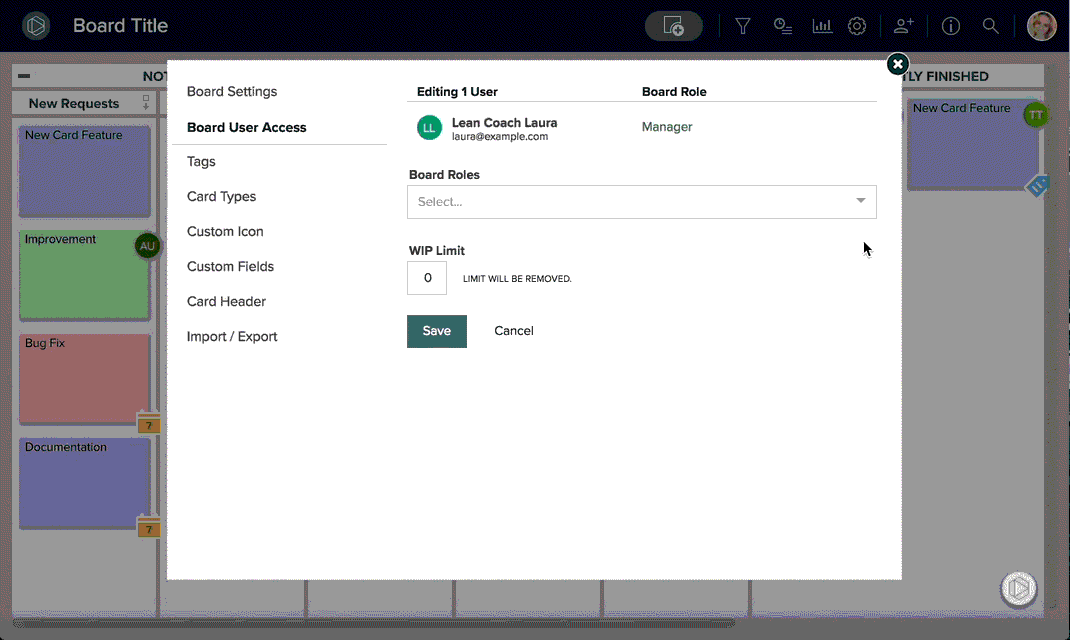 Set Access for Multiple Users and Boards
NOTE
Bulk user editing is available in Scaled and Enterprise editions of LeanKit only.
To assign board access and roles for multiple users across multiple boards, first click the Account Settings
icon in the top right corner of your home screen.
From the Account User List tab, click the Select Users button.
Use the checkmarks to select the users you want to assign to a board, then click the Assign Board Access button.
Use the Boards dropdown menu to select one or more boards you would like to add the users to, and the Board Role dropdown menu to select the type of board access you would like the users to have.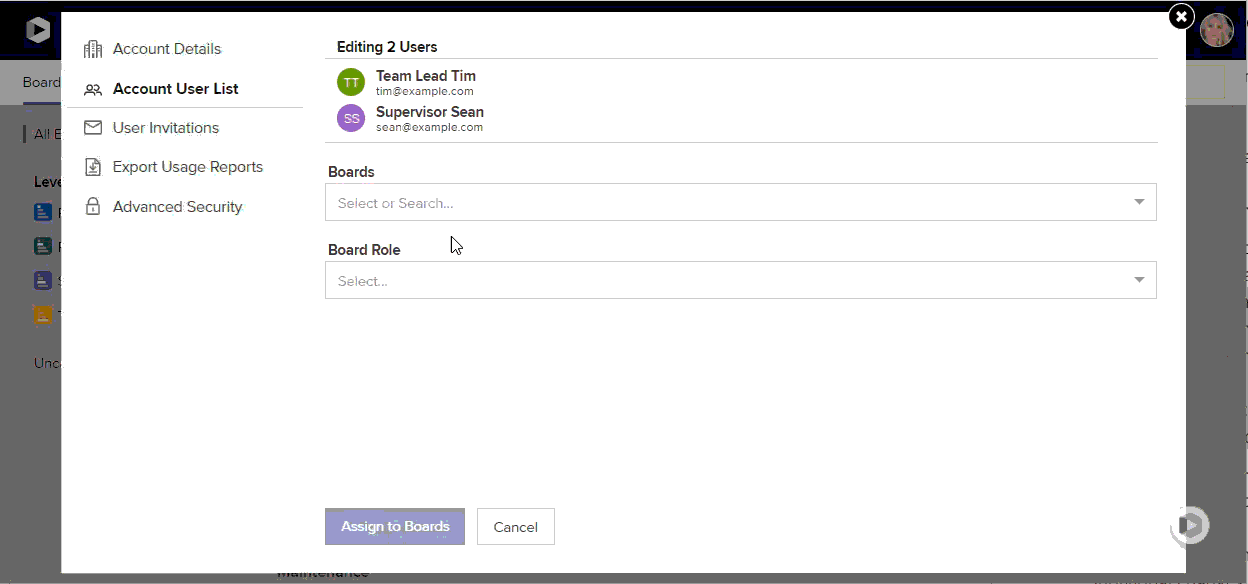 Click Assign to Boards when you're done.

Role/Permission Matrix
The following table outlines the operations that each role can perform: