Introduction to AgilePlace's SAFe Templates
Last updated
Who are the SAFe templates for?
AgilePlace provides a set of templates to help organizations implement the Scaled Agile Framework. The templates are based on the latest updates in SAFe and are intended to help practitioners at the portfolio, solution, program, and team levels implement Lean-Agile practices at enterprise scale. This guide provides practical guidance on how to apply these templates in AgilePlace to enable SAFe success.
What is the role of Kanban in SAFe?
Lean and flow-based thinking are core pillars in SAFe. Kanban is included at all levels of the Scaled Agile Framework so that organizations can visualize and manage the flow of Epics, Capabilities, Features, Stories and Enablers across the enterprise.
How does AgilePlace enable the implementation of SAFe?
AgilePlace enables you to build and interconnect your SAFe Kanban systems at the portfolio, value stream, program, and team levels to enable adaptive planning and better decision making throughout the delivery process.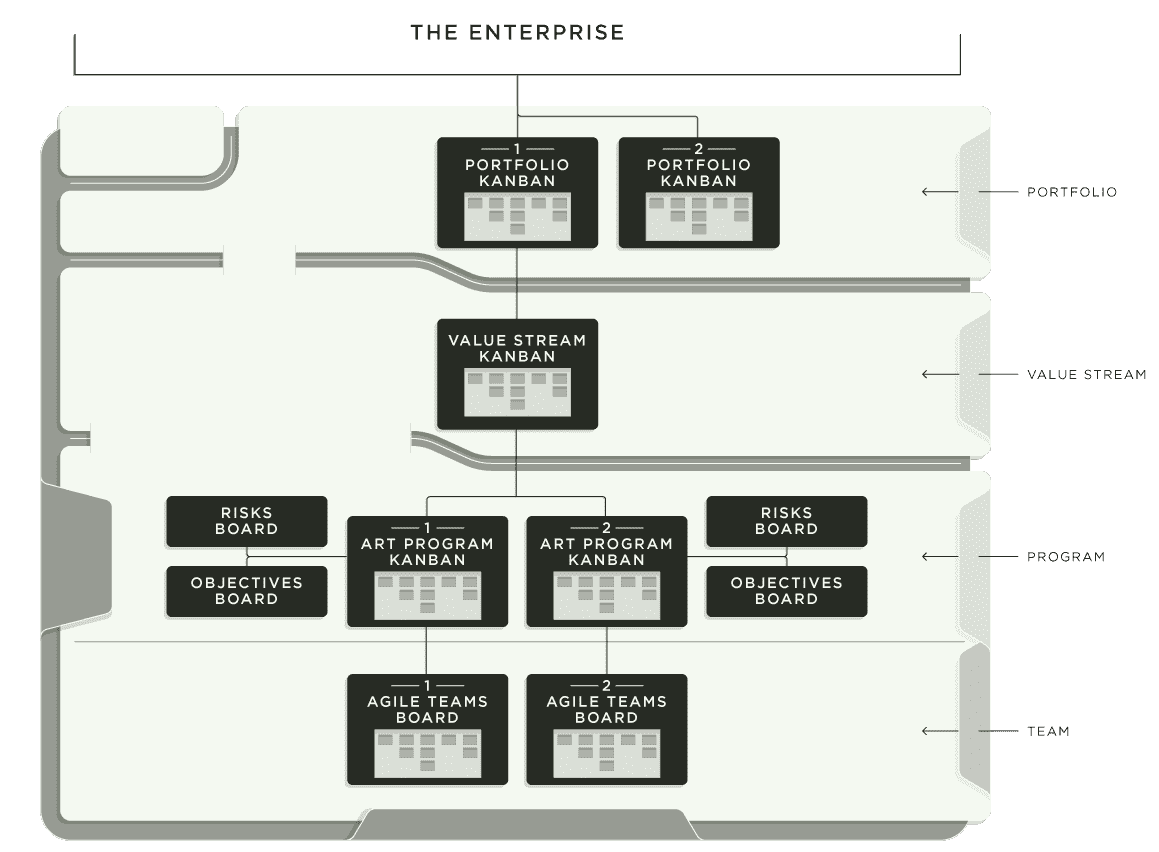 In addition, you can use Kanban boards in AgilePlace to help you manage the following constructs in SAFe:
Agile Release Train (ART) Objectives board for the PI Team
Risks board to support Risk mitigation using the ROAMing technique (Resolve, Own, Accept, Mitigate)
DevOps/Deployment/Delivery value streams because of an improved ability to roll-up progress and task information from a wider perspective towards the Program Board
Where can I find the SAFe templates in AgilePlace?
AgilePlace's SAFe board templates are available in the Board Template Library in the section titled "SAFe (Scaled Agile Framework) Boards."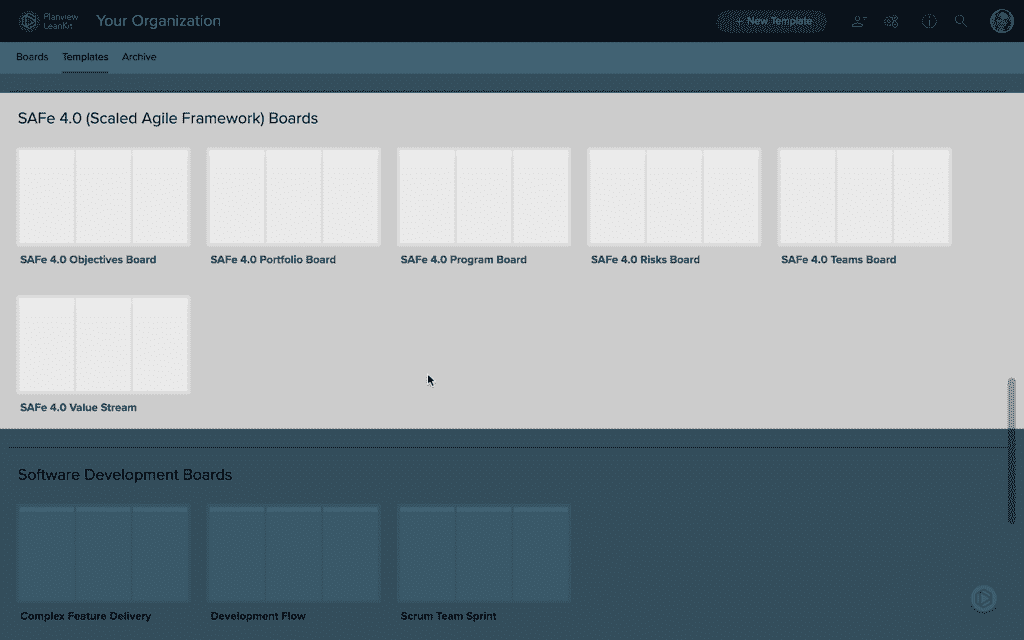 Overview of the SAFe templates in AgilePlace
Here's a high-level overview of how to use AgilePlace's SAFe templates:
SAFe Template

Description

SAFe Portfolio Kanban Board

The Portfolio Kanban Board is the hub of the portfolio level. It is where Business Epics and Enabler Epics are funded, tracked and managed for a specific Portfolio instance.

SAFe Value Stream

For large scale value streams that include multiple Agile Release Trains (ARTs) we use the Value Stream Kanban Board to track and manage Capabilities and Capability Enablers across the Development Value Stream.

SAFe Program Kanban Board

We use the Program Kanban Board to track and manage Features and Enablers for an Agile Release Train (ART) throughout their lifecycle (including before/after PI Planning).

While not specifically mentioned as kanban boards in SAFe, both PI Objectives and Program Risks are recognized as first-class citizens that are crucial to transparency and alignment. We therefore use an Objectives Kanban Board and Program Risks Kanban Board to increase visibility throughout PI execution.

SAFe Team Kanban Board

Teams practicing SAFe use a Team Kanban Board to track and manage their work. Agile teams can use a Kanban board to manage User Stories, Enablers and all other work from the Team Backlog. We recommend visualizing all teams on one board with a lane per team to provide better transparency and alignment.

SAFe Implementation Railway Board

Organizations implementing SAFe use the Implementation Railway Board to track and manage their scaled agile transformation all the way from mapping the various areas of the organization that are candidates for transformation, identifying concrete ARTs and STs and taking them thru the steps of the SAFe Implementation Roadmap.
Additional Guidance
| | |
| --- | --- |
| SAFe Metrics | There are multiple quantitative metrics recommended throughout SAFe. This section provides an overview of the pertinent metrics that apply to SAFe and how to generate them using AgilePlace's Lean metrics and analytics. |
| Dependencies | Managing the dependencies and relationships between work items across teams (and boards) is a fundamental practice in order to achieve good oversight of scaled up, enterprise spanning SAFe projects. AgilePlace enables you to connect cards between Kanban boards to visualize and manage dependencies. |
Ready to get started with SAFe? Check out our article on Implementing SAFe at the Program Level.