Understanding OKRs
Last updated
Why should I use OKRs?
​Objectives and Key Results, or OKRs, are often adopted by organizations that want to be more outcome-driven. By setting objectives, you establish accountability, which keeps your teams focused on outcomes rather than deliverables.
This strategy allows departments within your organization to align on one or more objectives innovating and iterating to meet customer demand. By measuring what matters and orienting your organization around outcomes, you can realize the value of your teams' efforts faster.
How do OKRs work?
OKRs provide a goal setting approach where you can:
Define the Objectives you want to achieve ​
Define the Key Results that will measure the progress of those objective​s
Review result progress and Adjust ongoing or future work as necessary​
How do OKRs work with AgilePlace?
Each AgilePlace board has its own OKR view, which means Objectives are tied to a specific AgilePlace board. Each Objective can have multiple Key Results, but each Key Result can only have one Objective. Key results use a numeric metric to track their completion percentage.
This progress is carried upward to the Objective to indicate the objective's completion percentage. The individual work items, such as AgilePlace cards, are associated with each Key Result. Key Results can have multiple AgilePlace cards from multiple boards. Similarly, individual AgilePlace cards can be associated to multiple Key Results.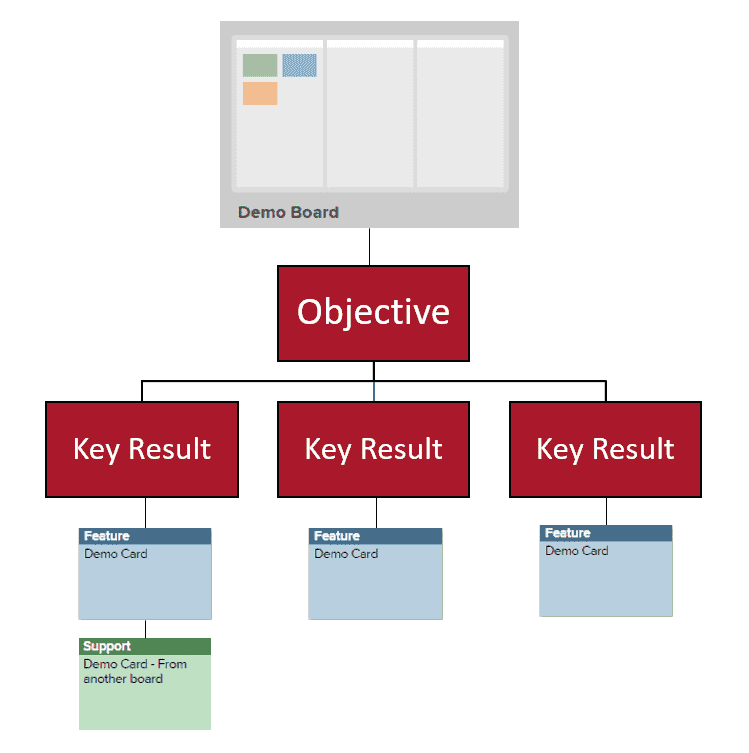 Who can access OKRs?
Access to OKRs is based on board-level access. This means that anyone who has access to the board, can view or edit the board's OKRs, with a few exceptions:
Readers can only view OKRs, Users can create and edit OKRs
If a Parent or Child Objective is from another board, you will only be able to interact with them based on your role on that OKR's board. For example:

Users of the destination board can make edits including: updating the objective names and dates, entering progress, and connecting/disconnecting work.
Users can modify parent/child relationships and associate objectives to objectives on other boards that they have at least Reader access to. Once connected, anyone who can access the OKR view can see the parent/child relationships.
Users can only connect Key Results to work they have access to.

The Board Manager role only provides access to edit OKR settings.
AgilePlace Account Administrators can enable OKRs for the AgilePlace Account and configure OKR Levels.
On associated AgilePlace cards, you can only see a Key Result's Activities if you have access to the AgilePlace board the objective comes from.
How can I learn more?
For more information about working with OKRs, see: