Configure Card Types
Last updated
TIP
Only Account Administrators can create and modify card types.
In AgilePlace, teams categorize cards by type to reflect the different types of work in their process. AgilePlace lets you define your own card types using colors, making it easier to:
Visualize different types of work more easily
Filter your board to isolate certain types of work
Report on specific types of work to identify opportunities for improvement
Configure Card Types
Click the in the upper-right corner of the board and select Board Settings.
Click the Card Types tab to the left. On the Card Types tab, you can see all the different card types that exist on the current board. You can also add a new card type, edit existing card types, or delete card types.
You can check or un-check the checkmarks next to a card type in the Card or Task column to include that card type for cards, tasks, or both. This allows you to set specific card types for your cards and tasks respectively.
Create a New Card Type
To create a new type of card, click Add Card Type on the Card Types tab of your Board Settings.
From there, you can give the new card type a color and name. You can either choose from our 10 "AgilePlace Designer Approved" colors, input a hex code, or click the color picker to choose any color you'd like.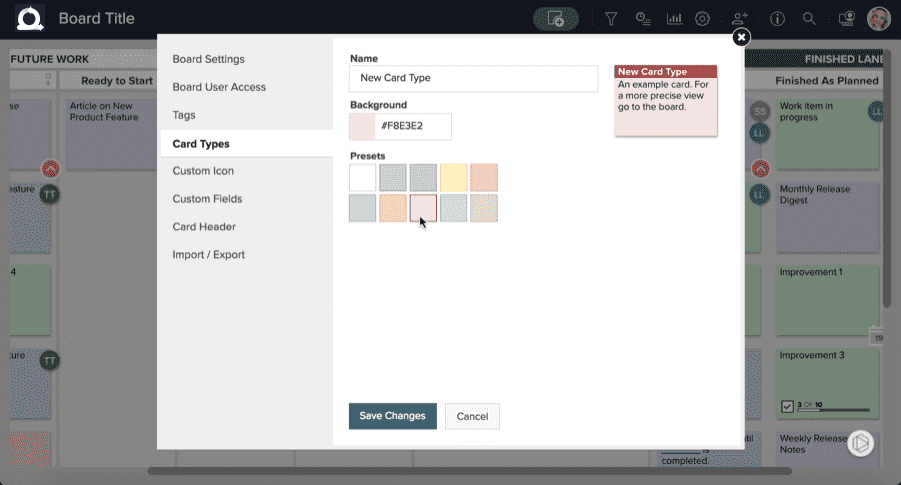 TIP
You can edit existing card types by hovering over and clicking the pencil and paper icon next to the card type.
Don't forget to Save Changes when you're done!
Set Default Card Type and Task Type
The Card Types tab includes both a Card Type and Task Type column. You can select either or both of these when you're editing the list. This allows you to specify which card types are listed for cards on a board, and which card types are available for tasks in a taskboard.
To select a default card type or default task type, just choose them from the drop down menu at the bottom of the Card Types window.
Delete a Card Type
To delete a card type, once in the Card Types tab, simply click on the trashcan icon next to the card type you would like to delete.
You will be prompted to complete deletion. Click yes to finish deleting this card type.
The card type will then be deleted from your card type options.
NOTE
Please note, if you select the default card type or a card type that is currently in use on the board, the card type cannot be deleted until you reset the default card type and/or change the card type of all cards currently using that card type.