Managing Your Implementation Using The Implementation Railway
Last updated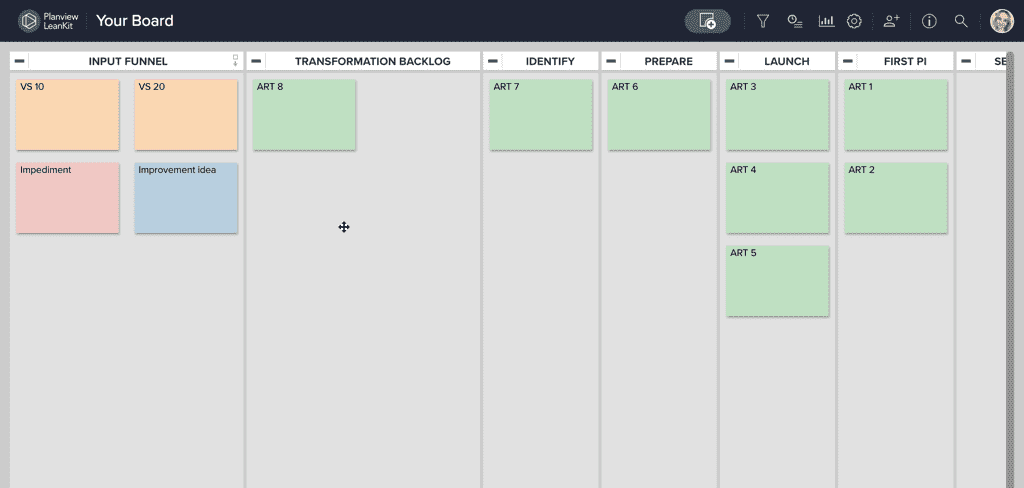 For organizations implementing SAFe across a large portfolio with multiple Agile Release Trains and maybe Value Streams it can be useful to have an implementation management Kanban board. SAFe's Implementation Roadmap calls it the Implementation Railway
(see https://www.scaledagileframework.com/launch-more-arts-and-value-streams/).
In this board the columns/stages map to some of the stages of the SAFe Implementation Roadmap. Each card represents an Agile Release Train or a Solution Train and visualizes where this train is in the implementation lifecycle starting from the Input Funnel where it is identified as a potential area of the organization that is interested in implementing SAFe all the way through identifying Agile Release Trains, Preparing, Training, Launching, Coaching the first PI, the Second PI, all the way to being a stable SAFe organization that is in "Sustain and Improve" mode.
As in any Kanban system, WIP should be limited and pull-mode is preferred to push/mandate mode. Read more about how to apply pull-mode to a SAFe implementation here.