Manage Card Attachments
Last updated
To help collaborate with your team, AgilePlace allows you to attach files to cards. The ability to manipulate card attachments depends on a user's role on the board:
Users that have 'Reader' permissions to that board can only download/view file attachments (not upload or manage).
Users with the 'User' role or above (Manager/Admin.) can manage, upload, download/view file attachments.
Access the File Attachments
To view, modify, or add a file attachment, click on the card that you would like to add an attachment to and select the Attachments tab. A list of any file attachments will be displayed, along with the name of the user who uploaded each, and the date and time each was uploaded.
Download an Attached File
To download and view the attached files, click on the download icon to the right of the file name.
You can preview the file attachment before downloading by clicking on the file name. Then simply click the download icon in the upper right hand corner of the file preview.
Most browsers will prompt the user as to the action required (Save or View).
Add an Attached File
To add a file attachment:
Click browse and choose file.
Use the file selection dialog to navigate and select the file that you wish to attach.
Back on the Attachments tab, enter a description under Add a File Description.
Click the Save Attachment button to upload and store the attachment and associated description.
The attachment will then be displayed in the list of attachments.
You can also "drag & drop" attachments right on to the Attachments tab.
Delete an Attached File
To delete an existing file attachment, click on the delete icon (trash can) next to its filename and confirm that you wish to delete the attachment.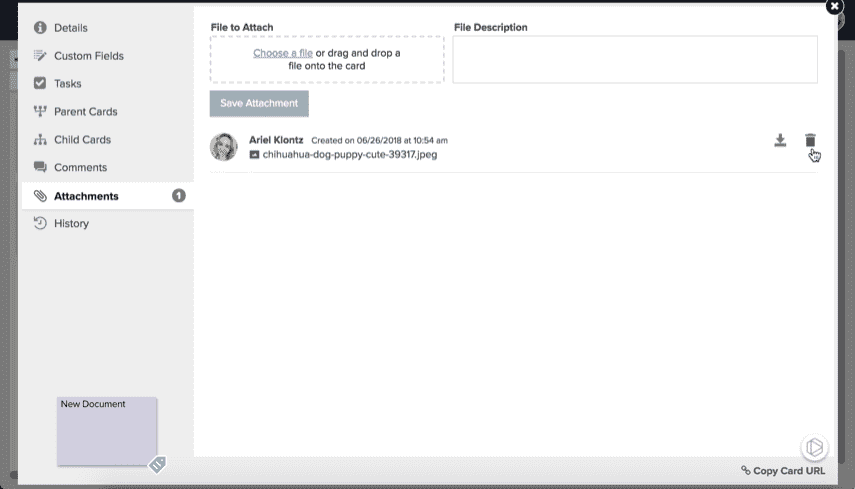 NOTE
Deleting the attachment will permanently remove the file from your board's storage (not your computer if you have previously downloaded it). The file cannot be recovered after deletion.
File Size and Storage Limits
There is a maximum file upload size of 75 MB for each attachment. Storage limits on a per card or per account basis are essentially unlimited.