Upload User Avatars
Last updated
In addition to using the default user initials, AgilePlace allows you to upload your own avatar, or use the 3rd party Gravatar service to implement user avatars. You can think of these avatars like a profile picture. These small visual representations of each user appear on user lists and on cards assigned to users.
Creating User Avatars
To upload your own use avatar click your current initials or avatar in the upper right of the AgilePlace screen to reveal a dropdown menu. From the dropdown menu, select User Profile.
In the tab My User Profile, click the My Avatar dropdown menu to the left.
Here you can make your user avatar selection in one of three ways: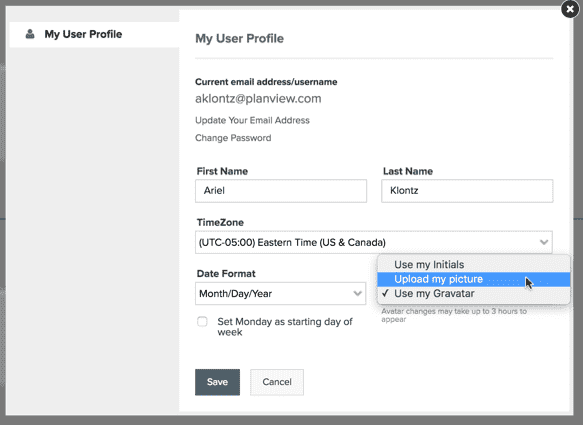 Use My Initials
Selecting this option will auto-generate a user avatar for you, using your first and last initial. The color of the avatar is based on an algorithm keying off your full name, thus ensuring a diverse set of colors and easy, visual identification of differing users.
Use My Picture
Selecting this option allows you to use a picture saved on your computer to create an avatar. Simply drag-and-drop a file from your computer onto the target area, or click browse and choose a file to open a standard file-browsing dialogue.
Once you've uploaded a file, you'll see the image accompanied by a cropping square. Click and drag to make a selection for your avatar. You can also resize the square by clicking and dragging any corner of the cropping window to resize as needed.
You'll notice a real-time preview of what your avatar icon will look like, in the top right-hand corner of this window.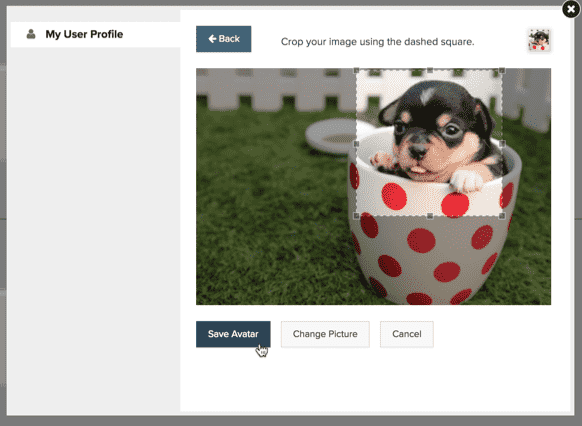 Once you're satisfied with the avatar preview, click Save Avatar to make the change permanent.
NOTE
Please note that it can take up to three hours for your new user avatar to display after uploading.
Use My Gravatar
Alternatively, You can go to gravatar.com and set up an account and upload a user avatar—a "Gravatar"—to represent yourself.
"Gravatars" are linked to email addresses. You will need to use the same address on gravatar.com as you use for your AgilePlace user.