Create a Card
Last updated
Work items are visually represented on your AgilePlace board using cards. Cards are moved to the appropriate lane on the board to represent the current status, making it easy for your team to quickly understand progress and priority of work items.
How to Create a Card in AgilePlace
There are many ways to create cards on a AgilePlace board, including:
Create a card using "Quick Create"
Create a card by "double-clicking"
Create a card in a specific lane
Create a card using API
Create a card by e-mail
Create a Card using Quick Add
AgilePlace's "Quick Create" feature lets you quickly add multiple cards to a board at once. Simply click the Create Card Icon on the top bar.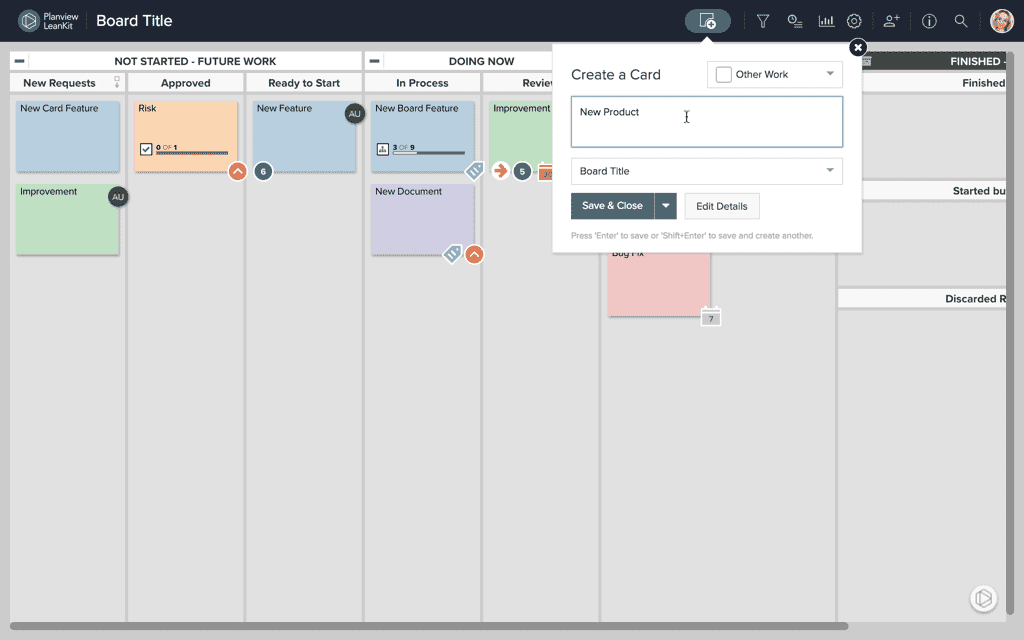 Then type a name for your card in the field and select a card type if desired using the dropdown menu in the top-right corner of the Create a Card window to specify the card type.
You can keep adding new cards by pressing the Shift key and the Enter key on your keyboard at the same time. You can save your card and stop creating new cards by clicking the Save button or simply pressing the Enter key on your keyboard. You can edit more card details for a newly created card by clicking Edit Details.
TIP
You can leave the Create a Card window by either clicking outside the window or clicking the Escape key on your keyboard.
Create a Card in a Specific Lane
To quickly create cards in a specific lane in your board, first right click within the lane that you'd like to populate. From there, click Create Card. Select Quick Create to quickly create a card and edit the details later or select a card type from the list that appears to create a card for a specific type of work item.
If you select Quick Create a dialog will come up to allow you to type in the card's title and choose a card type. You can select to Edit Details or choose to save your new card now.
Once you've finished creating your card, saved, and closed, the card will appear in the Default Drop Lane on your board. You can identify the Default Drop Lane by looking for a small icon in the upper right-hand corner of the lane, as demonstrated below.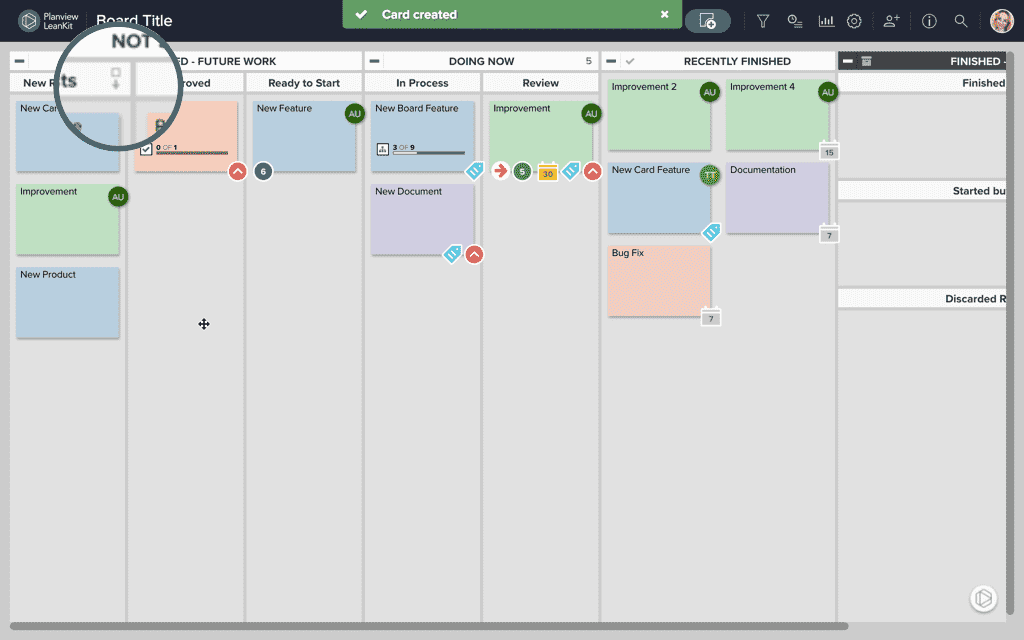 Create a Card by Email
You can also add new cards via email using your board's email address. To find the email address click on the default drop lane icon located in the top-right corner of your default drop lane. The email address is included in the context menu that appears. To read more about creating cards via email, visit this article.
Create a Card Using AgilePlace's API (Application Programming Interface)
You can also automatically add cards to AgilePlace from other systems via our flexible integration framework and open API. Integrations with web applications are also available through Zapier (www.zapier.com).