Help! I Can't Log In!
Last updated
Having problems logging in to your Planview AgilePlace account? You've come to the right place. Here are the solutions to the most frequent causes of being unable to log in to Planview AgilePlace.
If, when you enter your username and password and click "Login," the login form refreshes or clears itself with no error message:
Clear your browser cookies and cache,

Restart your browser and

Login again.
If you're using the Chrome browser, follow these steps to clear your cookies:
Open Chrome

Click the Chrome menu on the browser toolbar.

Click Settings.

Click show advanced settings.

In the Privacy section, click the Content settings button.

In the Cookies section, click the All cookies and site data button.

Search for "leankit.com" to find the cookie(s). Click remove all shown to delete.
Double check the following:
Make sure your account is enabled. Planview AgilePlace account users can only log into that AgilePlace account if they are enabled; disabled users cannot log in. Your Planview AgilePlace administrator can tell you if your user has been disabled or deleted, and can can take appropriate measures to correct things.
Make sure your is still active. If the entire account has been closed, then no users are able to log in to that account. Your Planview AgilePlace account administrator can check the status for you.
Make sure you're using the correct password. Your Planview AgilePlace user login is separate from your login to Planview AgilePlace's success center at success.planview.com. Make sure you're using the correct one in the correct place.
If you've forgotten your password:
Go to the unique web address/URL for your AgilePlace account (it will be something like "example.leankit.com")
Underneath the login button, click I forgot my Password .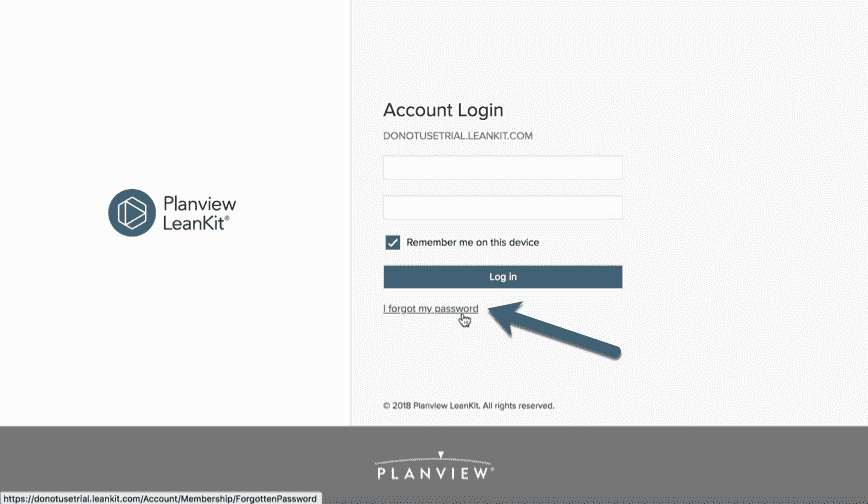 3. You'll receive an email with a temporary password and will be required to change your password once you log in.
If you click "I forgot my Password" but don't receive the password reset email from Planview AgilePlace:
Check your spam or junk mail folder for the Planview AgilePlace password reset email.

Make sure you're entering the correct email address that is your Planview AgilePlace username. Watch for your browser auto-filling an email address or password, especially if you have more than one Planview AgilePlace login.
Double check the following:
Make sure you're using the correct email address. Make sure you're typing it out correctly — watch out for typos or your browser auto-filling the wrong email
Make sure you're going to the correct URL. Each Planview AgilePlace account has its own unique web address/URL. It starts with the organization's chosen name, followed by " .leankit.com ". For example, if your organization's AgilePlace account or "host" name is Acme, your AgilePlace web address would be "acme.leankit.com".
Make sure your user hasn't been temporarily locked out. Some AgilePlace accounts have advanced password security options enabled that will lock out a user after a certain number of failed login attempts. Your Planview AgilePlace administrator can tell you if that's the case for your account. If you're locked out by this feature, you will need to wait .... and then use the forgot my password link. There is no manual reset for this security enhancement.
If you're Logged in to your AgilePlace account, here's how you can change your password:
Click your user avatar/initials in the upper right corner, then User Profile. This will open your user profile and preferences.

On the My User Profile tab, click Change Your Password

Enter your Current Password.

Then enter your new password under New Password and Confirm Password, and click Save.
Alternatively, any Planview AgilePlace account administrator in your organization can reset your password for you by editing your User Access settings as described here.
If none of the above work for you, please let us know by submitting a support request, and we'll be glad to help.