Connect LeanKit to Web Apps with Zapier
Last updated
Databases. Calendars. Planning tools. Execution tools. Email on every device. Using multiple tools/business applications is a reality most of us have accepted and maybe even embraced (Is there an app for that yet?). But as the number of our non-integrated systems grows, the more inefficient and error-prone our work can become.
Easily connect web apps with Zapier integration
LeanKit's integration with Zapier lets you connect web apps so you can easily move your data and automate tedious tasks. With Zapier's automated online integration tool, the project and task information you manage in other business applications for communication/meeting management (Google, GoToMeeting), CRM (Salesforce, Zendesk) or marketing automation (Emma, HubSpot) can be consolidated and made visible in LeanKit. Likewise, your business applications can automatically reflect updates made to your LeanKit project boards. And that's just scratching the surface of visibility and simplicity.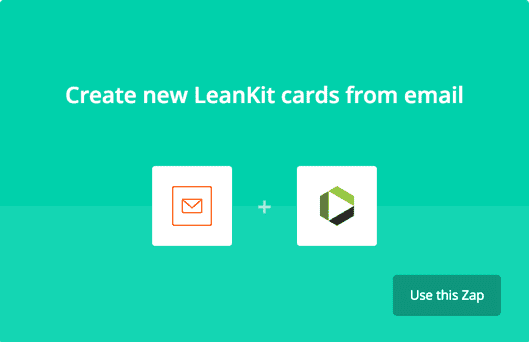 Zapier offers hundreds of online service application integrations to choose from. Read more about how you can use Zapier with LeanKit here.
There's no coding to get the LeanKit integration started – we've already done that for you – allowing for quick setup of your origin/destination business application and associated update settings. Zapier's blog about Automated Project Management with LeanKit has more great information.