Getting Started FAQs
Last updated
How do I sign up for a LeanKit account?
Click here to sign up for a free, 30-day trial of LeanKit.
How does LeanKit's trial work?
Planview LeanKit's trial provides full access to LeanKit for Teams. During this time you get the full Planview LeanKit experience free for 30 days -- with no obligation or credit card required. You can create as many boards and users as you need. At the end of the trial, you can choose which edition of Planview LeanKit you want to continue using.
How do I continue using LeanKit at the end of the trial?
At the end of your free 30-day trial, you can choose to continue using LeanKit by subscribing to one of our paid plans.
To continue using LeanKit for Teams or LeanKit for Scaled Teams, the Account Owner can purchase user licenses directly within the application at any time. Click the three gears icon in the home screen, and select Account Details.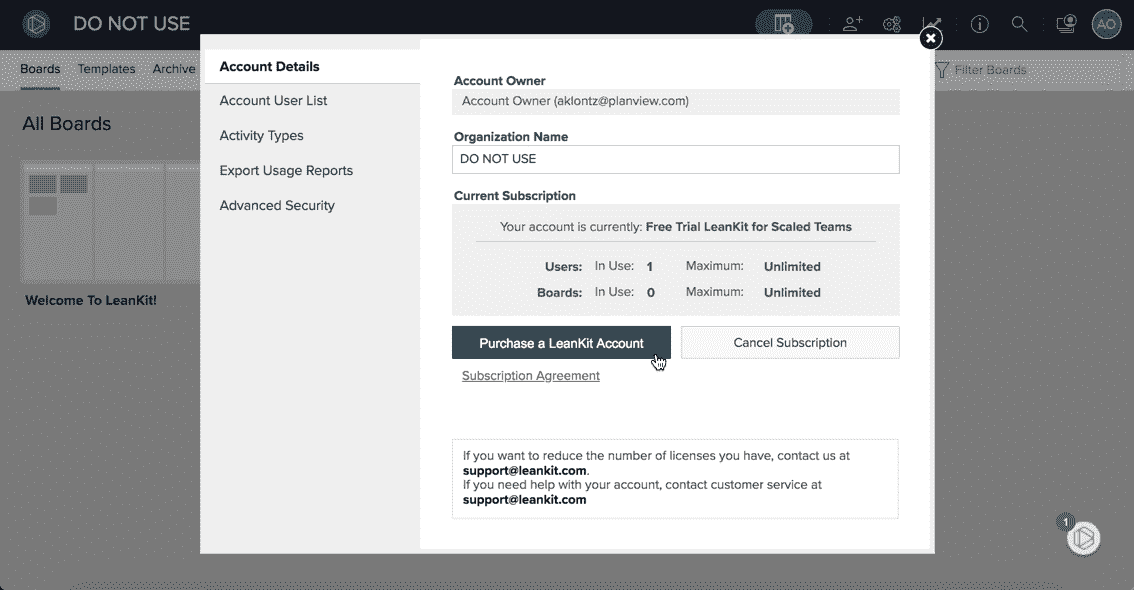 Click Purchase a LeanKit Account and select the number of user licenses you would like to purchase. The amount per month and the total per year will be displayed for the requested number of users.
Once you have completed the purchase, your new user licenses will be available immediately.
What if my trial has already expired?
The first time the Account Owner logs in to LeanKit after the trial has expired, he or she will be directed to purchase an account edition or suspend their LeanKit account.
How much does LeanKit cost?
To see our pricing plans, please go here.
Can I import existing data into LeanKit?
Yes. LeanKit provides an import wizard to help you import data from other systems into LeanKit. To access the import wizard, click on the icon in the top navigation bar of the board you want to import data onto. Select Import/Export from the menu and follow the instructions.
What organizations are already using LeanKit?
LeanKit is used by more than 50,000 teams around the world. To see a few of our customers and see how they use LeanKit go here.
What involvement is required from my company's IT department?
LeanKit requires little to no IT support. Our on-demand service is accessed via a standard web browser and does not require IT involvement to implement or maintain your account.
How do users access LeanKit?
All LeanKit editions are available as an on-demand service. New users receive an email with the URL to access their account, username, and temporary password. There is no additional hardware or software to buy, install, or maintain.