SharePoint Online - Creating a New Folder from a Template Folder
Last updated
What's New
In previous versions we added the options to create SharePoint folders and link them to Work Items in AdaptiveWork, and also to define the default folder when uploading files.
We have further extended this functionality by adding the option to create a new folder based on another folder (a template folder). The new folder is created with all the content of the template folder. The new functionality is available via the interface and in Configurations.
How it Works
User Interface
When adding the folder via the AdaptiveWork interface (Add Related), select the SharePoint folder from which you want to copy the contents. A new folder is created with a copy of the contents.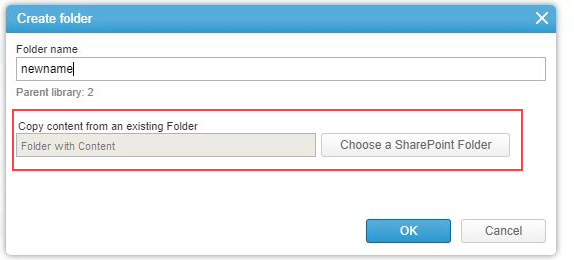 Configurations
You can also create folders using the template folder programmatically using configurations.
In Set Actions, enter the relative path to the template folder in the Copy SharePoint folder field.
The relative paths to the parent folder and template folder are based on the Site Collection URL in your organization's SharePoint Integration Configuration settings.