Define Default SharePoint Folder for Programs and Projects
Last updated
What's New?
In a previous release we made it possible to create SharePoint folders using customizations, and link the folders to Work Items in AdaptiveWork.
We have enhanced this feature by making it possible to define the SharePoint folder as the default root folder when uploading files via the Add Related panel. When used, this feature removes the rest of the folder structure (above the selected folder).
The default folder applies to all sub-work items; sub-projects, milestones, and tasks below the project.
Before the enhancement, the defined folder is displayed as part of the SharePoint hierarchy.
With the enhancement, only the default folder (and sub-items) are available.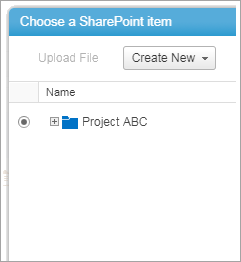 Benefits
This feature provides:
Easier and more direct access to the relevant project-specific folder when uploading files
Prevents uploading to the wrong folder
How it works
This feature can be added using Custom Actions and a Workflow rule, for example, as an extra step in the Workflow rule that defines the folder for uploading and linking files to Work items.
Add the step to an existing Custom Action or Workflow:
Click Add Another Action > Update Field.
Click Select Field... and from the Fields tab, select Default Integration Path.
Add the variable NewObject1.

Notes:
This option is valid for new folders only and not for existing folders.

The default folder, once defined, is currently not editable.
Click here to see a detailed example of how to add a custom workflow that creates a custom folder for a new project, and defines the default folder.