Navigating in AdaptiveWork
Last updated
Custom Actions
This page describes Custom Actions on the Navigation Panel, and includes the following sections:
About Custom Actions
Custom Actions allow organizations to add buttons that activate their own series of actions.
It is very useful when a procedure has to be performed in AdaptiveWork many times.
Custom Actions allow Admin users to:
Define organizational procedures as a series of actions and pack them as a Custom Action
Define different Custom Actions for different AdaptiveWork item types
Run Custom Actions directly via URLs

You can create URLs, add them directly to emails, discussion posts, or as a new field in a grid or Properties card, and run Custom Actions by clicking a link to the Custom Action pop-up (or redirect you to AdaptiveWork if accessing ​the URL via email) just like running it manually from the screen.
Click here for more on running Custom Actions directly via URLs
Create Wizards - you can create wizards with multiple screens by linking several custom actions and even use logical rules for different results based on the input of the various screens.
Let users select an item in the system and click a button to run the Custom Action on it
Define a Custom Action on a family of item types such as on all work item, which will be available for all family members:
projects, milestones and tasks
Define which users are allowed to run the action and what conditions have to be met
Define interaction with the user:

Request user confirmation after the user selects a Custom Action
Include variables that the user completes. A dialog box opens after a Custom Action is selected
For example: postpone due date by X days, where X will be filled by the user.
Show a success message that the Admin creates or receive a system error
​
The Custom Action's item type determines which module has a Custom Action button.
For example, if a Custom Action was defined on the People module, the option is included in the People module ribbon and in the Skills module.
The button appears in the ribbon under 'Custom Actions' and in the contextual menu for the selected item.
Figure 5: Timesheets Custom Action Ribbon Button
Creating New Custom Actions
AdaptiveWork Admin users create new Custom Actions from the Customization section in the Settings module.
To create a new Custom Action, select the item type to which you would like to create the Custom Action, open the Create New dropdown, and click 'Custom Action'.
Click here for more on Creating Custom Actions
Recent Items
Recent Items , located on the Navigation Panel, contains a list of the recently accessed items.
Accessing Recent Items
Click Recent Items.

The list of all recently accessed items opens.
Hover over and click an item in the list .

The screen refreshes showing the item selected in Item Detail view.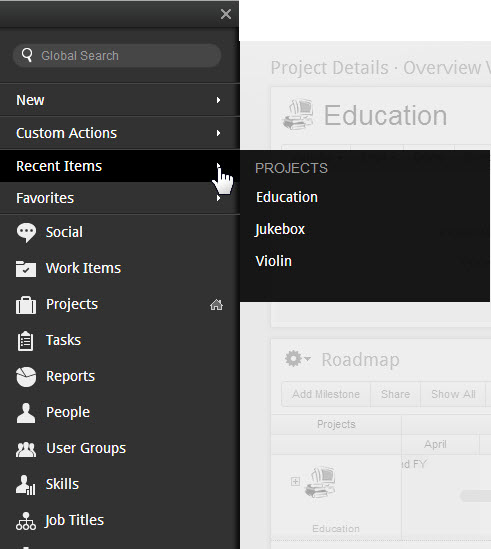 Figure 6: Recen Items
Favorites
This page describes Favorites on the Navigation Panel, and includes the following sections:
List of Modules
AdaptiveWork modules are accessible via the Navigation Panel as long as they are enabled by your AdaptiveWork Admin user .
The list of modules include: