Customer Contacts
Last updated
Customer Contacts
This page describes customer contacts and includes the following sections:
You can add contacts to a relevant customer in two different ways; either by clicking

in the 'Add Related 'ribbon or Relations Panel, or by adding a definable Contacts field to the Customers module grid.
Both methods enable adding multiple customer contacts and defining a contact as the 'main' company contact.
Adding the Customer Contacts Field
Navigate to the Customers module.
Click located right of the closed Navigation Panel.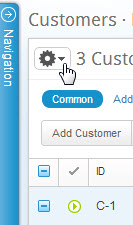 Figure 1: Gear
The settings menu drops down.
From the menu, under COLUMNS , select Manage.

Figure 2: Settings Menu

The Choose Fields multi-find window opens. The Contacts field appears in the right-hand panel.
Figure 3: Choose Fields
Add the field to the view:
Click aligned to 'Contacts'.
Click
Check in the Your Selections column and use the controls to s ort the vertical list order.
Click ​

The field is added to the grid.
​
Figure 4: Contacts Field Added
Navigate to the Customers module.
Click to activate the Contacts field (or alternatively, select 'Add Related' in the relation panel or ribbon and select 'Contacts').
​
Figure 5: Contacts Field Activated

The field editor opens.

Click

The Add New Contact Person pop-up opens.
​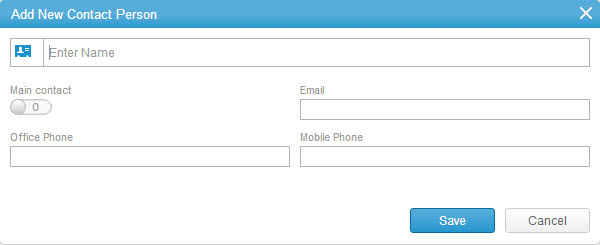 Figure 6: Add New Contact Person
Enter the contact name.

To upload a custom icon, click the contact icon on the left.
Click in order to define the contact to be the main customer contact.

The switch becomes
Enter the following data:
Email
Office Phone
Mobile Phone
Click ​​

The customer contact is added.