Strategic Funding
Last updated
Strategic Funding
The Strategic Funding capability's enablers include Budgeting and Financial Targets. Each capability within the Planview Capability Framework has a distinct set of features and functionality, business processes, best practices, and analytics and reports that deliver value to customers in the form of specific business outcomes.
Enablers and Business Outcomes
Budgeting
Provides the mechanism to define or manage the organization's budgets and set time-phased financial budgets that planned and current projects can be analyzed against. Resulting business outcomes include:
We can define budgets for an organization at various levels that represent the portfolio's investment "pot."
We can support investment planning by providing the context of strategic budgets for analyzing demand and making assessments on our ability to take on new investments.
We can adjust budgets as needed to reflect changes in priorities and desired outcomes.
Financial Targets
Supports the setting of time-phased financial targets against which planned and in-flight projects can be analyzed. Resulting business outcomes include:
We can define the benefits or revenue targets that the strategic portfolio must yield. This provides further context for analyzing and prioritizing programs.
We can adjust financial targets as needed to reflect changing priorities and desired outcomes.
Best Practices
Fund programs strategically
Prioritize and fund program investments based on quantifiable business benefits, such as ROI, NPV, and customer retention metrics.
Embrace adaptive funding
Capture changes over time to assess and manage funding changes at both the investment and portfolio level. Fund portfolios incrementally based on timeframe or stage-gate to evaluate investment progress and make course corrections easier.
Manage strategic funding and performance
The right strategic plan enables you to maximize the ROI from strategic initiatives. An investment-centric approach creates capital plans that integrate strategic and organizational financials to promote visibility and drive performance. Executives and others should be able to prioritize and rank investments based on their alignment with corporate strategies and financials.
Reallocate funding
A shift in strategy prompts an analysis of portfolio funding. Knowing the current spending on each strategic initiative provides a baseline for determining changes to support the new direction. Teams can determine new funding levels for each portfolio based on the updated strategy. This strategic management process encourages finance to create more flexible funding approaches to easily reallocate as circumstances require.
Capture benefits
Capture the benefits of strategic programs by how they add value and contribute to the strategic objectives of the organization. Track benefits over time and automatically calculate financial metrics such as IRR, NPV, ROI, and Payback Period, using dashboards to understand the performance measurement across the portfolio in an easy, visual way.
Plan at all levels
Support business plans at different levels – strategy, objectives, initiatives – with each having their own budgets, desired results, owners, and other key information to outline the plan. Identify both financial and non-financial benefits to be achieved to create value.
Build a business case
Enable stakeholders to build a strategic business case with capital and operating expense plans to achieve objectives, understand how funding is being spent, and reallocate as needed throughout the fiscal period.
Processes and Reports
Strategic funding provides the mechanism to define and manage strategic initiatives and set time-phased budgets and financial targets that investments can be analyzed against. Budgets and financial targets can be adjusted based on changing priorities or desired outcomes.
Budgeting Process Steps
This step supports creating time-phased financial budgets for elements of the strategic plan that planned and active investments can be analyzed against.
Process Step
Description
Create a top-down planning portfolio

Create a Planning portfolio which defines the capacity and demand entities to be used in the planning process. In top-down investment and capacity planning, both capacity and demand are defined by financial plans within the Strategic structure.

When defining the Planning portfolio, Strategy should be chosen for both the capacity and demand structures. The demand strategic level is often Allocated Work.

For more information:
Financial Targets Process Steps
This step supports the setting of time-phased financial targets against which planned and in-flight investments can be analyzed.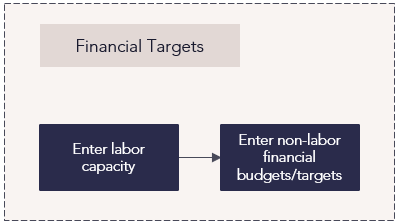 Process Step
Description
Enter labor capacity

Enter the labor capacity in the strategic budget, which represents the investment "pot" of money that will be used to balance against the many demand priorities an organization is considering. This budget also serves as the baseline for comparison against the actual cost of delivery.

Budgets may be created at any level of the Strategy structure on the Financial Planning Detail screen, then spread down to lower levels, or rolled up to higher levels. Alternatively, data may be loaded using the Strategic Financial Load, then rolled up and edited.

For more information:

Enter non-labor financial budgets/targets
Enter the non-labor capacity in the strategic budget. Non-labor data is often manually entered, then spread down to lower levels, or rolled up to higher levels as part of the larger budgeting process.
Outputs, Reports, and Analytics
Strategic funding is supported by the following outputs, reports, and analytics:
| Type | Associated Outputs, Reports, and Analytics | Description |
| --- | --- | --- |
| Analytic | STR01 - Strategy/Program Portfolio Details | Strategy portfolio analytic that summarizes key data points relating to the strategic hierarchy—the strategic missions, objectives, and investment programs of the organization. |
| Screen | Strategy Portfolio View | Helps organizations best execute a strategic plan when it touches many teams and must deliver a variety of outcomes. The screen gives you both an overview of the strategic entities in a portfolio and easy access to the details of those entities. The screen allows you to easily visualize your corporate strategic roadmap, expanding the hierarchy to include not only the programs but also real-time project data and related outcomes. |
| Dashboard | RPM Dashboard STR103 - Strategic Planning & Analysis | The Strategic Planning and Analysis dashboard empowers strategic and program managers to quickly assess their strategic plans against targets and across key factors. Managers can immediately visualize whether the latest plans meet revenue, cost, and margin targets. They can analyze cost and revenue breakdowns by missions and objectives, geographic regions, and markets. Evaluating performance against targets, incoming pipeline by region, and return by market, managers can adjust their plans to deliver a balanced portfolio across their strategies. |