Capacity Planning
Last updated
Capacity Planning
The Capacity Planning capability supports the mechanism to set resource capacity targets used to analyze capacity against demand and assess the organization's ability to continue with or adopt new investments. Each capability within the Planview Capability Framework has a distinct set of features and functionality, business processes, best practices, and analytics and reports that deliver value to customers in the form of specific business outcomes.
Definition and Business Outcomes
Definition
Provides the mechanism to set time-phased resource capacity targets. These targets can be used to analyze demand and make assessments on the ability to continue with or adopt new investments (e.g. programs, projects).
Business Outcome
We can set resource capacity targets to help balance existing and potential investments, and we can assess our ability to successfully deliver on those investments.
Business Outcome
We can analyze how new investments may impact resource capacity within the context of our existing portfolio of approved investments.
Business Outcome
We can schedule investments across time to optimize resources.
Business Outcome
We can quickly identify capacity constraints as investments are approved and reallocate resources to high-priority investments.
Best Practices
Ensure resources have the right skill set
The lack of necessary skillsets to deliver the required outcomes is a common problem among teams, especially with specific skillsets that are in high demand. Compare the skillsets that are required for the project against those your teams currently possess, and rather than sharing resources across teams, keep your teams fully dedicated to optimizing work execution that delivers value. Build out a dedicated team comprised of those with the skillsets in highest demand for the work you are committing to within your planning cycle.
Progress team structures
Continuously re-evaluate the needs of the organization and its projects, and regularly alter teams to meet those needs and facilitate newly modernized processes. Walk through a variety of project scenarios to identify ways your teams should be altered to better support new systems; smaller, dedicated, product-centric teams adapt to changing and uncontrollable variables more easily, and can act to increase product line capacity as needed.
Avoid multi-teaming
Avoid multi-teaming where shared resources work on projects across teams. Multi-teaming links the fate of otherwise independent projects together—if one project stalls, all of them can be put at risk. Give teams the autonomy to pull from prioritized backlogs when a project, feature, or deliverable stalls, or when the team determines that work must be abandoned, so teams can deliver value.
Perform scenario-driven capacity planning
Create different resource and portfolio scenarios based on resource utilization, capacity, and funding to compare against benefits, risks, and ROI. Model reallocation of teams, groups, and associated funding across the portfolio to understand the impact of unplanned work and balance trade-offs; create and compare scenarios to evaluate alternative staffing and funding approaches to achieve the portfolio objectives.
Forecast using real-time visibility
While resources are assigned and work is underway, it's important to have real-time visibility into the resource workload so you're able to plan for future projects. This will help you accurately forecast resource demand and account for future resource needs, including hiring decisions and future resource gaps.
Don't overestimate capacity
When ascertaining resource capacity and forecasting velocity, avoid counting open roles that you intend to hire as available resources—new hires may not have the right skillsets, and it takes time to obtain the product knowledge necessary to keep up with the pace of the team. If the capacity doesn't already exist somewhere within the organization, only commit to what can be delivered without it, and have new teams discuss what capacity means to them in a specific planning cycle versus trying to fill an arbitrary capacity percentage.
Expect and alleviate disruption
Take into consideration during quarterly planning that you'll experience unforeseen issues, interruptions, and interdependencies that may threaten deadlines and potentially derail projects. Alleviate the potential for disruption by streamlining governance, removing process-heavy procedures, and giving autonomy to teams with specific parameters (like cost thresholds and strategic alignment) in terms of what they have the power to approve without further oversight.
Generate consistent and reliable reports
Having access to consistent and reliable reporting means that leadership can make better-informed decisions when planning, prioritizing, and reprioritizing initiatives. Reports can provide quick real-time visualization to help with planning and prioritization, quickly identifying and calling attention to staffing issues that require resolution.
Processes and Reports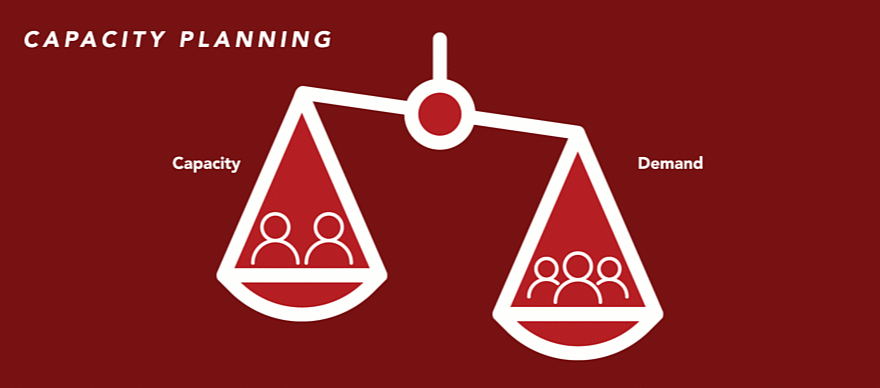 Implementing capacity planning enables organizations to remain flexible and respond rapidly to changing priorities. Using robust investment, demand, and capacity data, managers can make iterative planning decisions about which investments to prioritize based on their capacity targets. Portfolio and resource managers can analyze and evaluate active and pipeline investments on a continuous basis, revisit assumptions, and make trade-off decisions to optimize their resources and costs.
Capacity Planning Process Steps
Capacity Planning provides the mechanism to set resource capacity time-phased targets at the relevant organizational level. These targets can be used to analyze demand and make assessments on the organization's ability to continue with or adopt new investments. In Planview Portfolios, capacity planning is typically performed in tandem with Prioritization and Scenario Analysis.
Process Step
Description
Create/update the portfolio to include all investments that are ready for analysis/approval

A Planning portfolio defines the capacity and demand entities to be used in investment analysis, i.e. where and which targets and demand you wish to analyze in a specified time range (Planning Horizon).

Demand requirements for analysis of investments:

Demand must not be in the Investment Approval Status of Pending.
Demand must match the selected capacity.
Demand must be within the defined Planning Horizon.
Demand must be part of the additional portfolio definition.

For more information:

Create a scenario

Creating investment and capacity planning scenarios allows you to model different investment decisions and various approaches to balancing investment demand with capacity.

Creating a shared scenario allows you and others who have access to the relevant portfolio to work in a what-if environment until a particular scenario is ready to be published and shared as your organization's investment plan. When working in a shared environment, you and other users review the same proposed investment plan so that each of you can examine and update those portions that affect your respective areas.

A Planning portfolio can also include user-defined scenarios created to model and evaluate different investment decisions and approaches to balancing capacity with demand in a what-if environment. Data in those scenarios can be modified without affecting the corresponding data in the portfolio's relevant financial plan as changes are made.

For more information:

Set and maintain portfolio targets/budget and capacity

Analysis of investments is achieved by comparing what's available—capacity (which can be in the form of resource capacity or a financial budget)—versus demand (derived by the forecast of work in the portfolio).

To carry out and understand portfolio investment planning, it's essential that an accurate recording of your target budget and resource capacity is captured. The detail of the summarized capacity totals can be drilled into via the Financial Planning Detail screens associated with each capacity entity.

Capacity budgets and targets can also be managed from within a Planning portfolio. The Capacity Portfolio Manager shows a summarized capacity total broken down by the capacity slicer in the portfolio definition.

For more information:

Rank and prioritize investments

Investment and Capacity Planning provides a mechanism to compile all investments (accepted, in-flight, and potential investments) and carry out an assessment and approval in the context of the whole portfolio. The Rank view within Investment and Capacity Planning provides the ability to sort the list of investments based on subjective or qualitative scoring and prioritization criteria to prioritize investments within the portfolio. This ranking is then used in subsequent screens in Investment and Capacity Planning as sorting criteria.

Investments can be ranked automatically based on criteria and/or manually by the users of each scenario. Investments are displayed in ranked order within a scenario. If no ranking has been applied, investments are displayed alphabetically. If a scenario includes both ranked and unranked investments, unranked investments will display at the top in alphabetical order, and the ranked investments will display below in ascending order of their ranking.

Planning Manager tile – ranking investments

Planning Manager tile's Rank view – rank investments automatically

For more information:

Analyze against portfolio target

The objective of this step is to confirm the approval of investments within the portfolio targets/constraints of costs and resource capacity.

​The Analyze view provides the ability to approve investments by moving them above the line (accepted) and seeing the impact on overall budgetary constraints and capacity. Any changes to the Investment Approval Status and Internal Priority in the Investment and Capacity screens are "what-if" changes and are not confirmed until the scenario is published to execution.

To analyze investments "above and below the line":

Investments in this view are displayed in two trays:

The upper tray represents above-the-line investments with Accept or Conditionally Accept statuses.
Investments in the lower tray represent below-the-line investments with Refuse or Analyze statuses.

If the investments exceeding targets are in the below-the-line investments, it means that while the total of the portfolio will exceed the targets, the current above-the-line investments will not exceed the target.
Depending on the selected column set, you can also view different summarized financial information.
To make investment decisions (to approve or refuse an investment), open the action menu next to each investment to select the desired status. Here you can also view other information about the investment. Alternatively, you can use a drag-and-drop operation to move the investments between the above the line and below the line trays.

Planning Manager tile – analyzing investments

For more information:

Shift investment dates and durations

The Shift view provides visibility of where demand exceeds capacity by period, as well as the ability to shift investments to fit within available capacity.

After portfolio investments have been ranked and analyzed, date ranges of approved and conditionally-approved investments are further evaluated. Constraint limitations on specific resource types may be resolved by shifting investment dates, and investments below the line may be approved.

Planning Manager tile – shifting investments

Planning Manager – shift highlighting bottom tray details

Planning Manager tile – shift highlighting bottom tray details

For more information:

Balance against capacity

The objective of this step is to identify resource capacity/demand issues or cost time-phasing issues and to smooth demand across time to plan to deliver the programs within the capacity and time-phased budget targets.

The Balance view allows you to look at investments that have been accepted in the scenario, and the time-profiled impact of those investments against the capacity and budget targets.

To balance investments:

In the Balance Investments view, use the category menu to decide which information to view. In this example, we are viewing Labor Currency. You can also view Labor Effort by selecting Labor and Effort. Depending on your usage model, you can also view Expense, Capitalized Costs, and Benefits.
The Focus Control option displays the controls available for you to organize the information when you perform drill-down for analysis. The controls allow you to decide how many attributes to be included in the summarization for drill down. You decide which order they should be presented by moving them to the left of the focus control bar. The control on the far left will be the first level of drill down, following by attributes to its right.
Information on the grid at the lowest level is editable when you are viewing a user-created scenario or the Shared Scenario if it is editable.
Action menus at the program level provide options to view additional information for the program.
Action menus at the lowest level provide options to update attributes of the line or to model changes to the demand.
Action menus from the Capacity levels provide the option to view the financial plan of the selected capacity to model changes to defined capacity.
Use the Scenario options to change the scenario you are viewing or to create and manage scenarios.

Note: it's important to not accidentally model what-if decisions on the Shared Scenario. What-if modeling should be done on user-created scenarios and published to the shared scenario when you are ready to commit to the plan.

Planning Manager tile – balancing investments

For more information:

Baseline portfolio

The purpose of this step is to capture a portfolio baseline in order to create a snapshot of the investment decisions and investments as of the end of the investment planning cycle. As the investment portfolio evolves and the program landscape continues to change, new programs arrive, or planned programs fluctuate in risk, forecasted cost or strategic alignment, a continuous reassessment of investment decisions and priorities will force amendments to the investment planning portfolio. This working version can then be compared against the baseline and variances analyzed.

After creating versions, it's important to assign the correct Working Version or Comparison Version tags to see their respective values in column sets. See Managing Investment and Capacity Planning Scenarios for more information.

The Planned Investments comparison view highlights financial differences between the working version and the comparison version.

The top tray compares financial data differences based on the selected column set. The bottom tray compares investment approval status and rank order.

Planning Manager tile – Planned Investments pivot view

The Approval Decisions view compares Investment Approval statuses for multiple scenarios.

Selection of scenarios is made in the Investment and Capacity Planning screen's preferences. If no scenarios are selected, this screen compares all scenarios. Investments are displayed in the same way as the bottom tray of the Planned Investments comparison view—by Above the Line, Trade-off, and Below the Line.

Planning Manager tile – Approval Decisions pivot view

For more information:

Compare scenarios

By comparing multiple scenarios, you and other users who have access to a relevant portfolio can work in a what-if environment until a particular scenario is ready to be published and shared as your organization's investment plan. Data in those scenarios can be modified without affecting the corresponding data in the portfolio's relevant financial plan as changes are made.

If there are multiple scenarios within a Planning portfolio, designate your Working scenario, then compare Planned Investments or compare Approval Decisions to display information to help you identify differences relevant to the financial data, investment approval status, ranking values of investments, and trade-off of approval decisions.

Publish portfolio decisions and adjustments

The purpose of this step is to publish the investment approval decisions that were made to the scenario during the ranking, analyzing, shifting, and balancing of investments versus organizational capacity. Based on the above-the-line (accepted) and below-the-line decisions made during this investment planning process, the Investment Approval Status values are updated accordingly—all accepted programs will be changed to an Investment Approval Status of Accepted. Investment Approval decisions made in a scenario are "what-if" and not visible and live until the publishing process is completed.

If the investment approvals have been made in the Shared Scenario then the Publish from the Shared Scenario transaction will make the decisions live.
If the investment approvals have been made in another (not shared) scenario then the Publish from Scenario can be used to move the investment decisions to just the shared scenario or to the demand as well.

Note: in addition to investment approval decisions, any amendments to demand data of investments or the capacity/budget targets within the (non-shared) scenario will also be published live and update the financial planning detail screens accordingly for the investments and/or capacity in question.

Planning Manager tile – publish from the shared scenario

Planning Manager tile – publish from scenarios created by users (non-shared)

For more information:

Close investment

The purpose of this step is to change the status of refused programs to Closed. If the program was in progress, any projects allocated to the program would need to be closed as well to prevent accumulation of additional time and costs.

This step can be executed as part of a lifecycle process or completed manually.

For more information:
Outputs, Reports, and Analytics
This solution capability is supported by the following outputs, reports, and analytics:
| Type | Associated Outputs, Reports, and Analytics | Description |
| --- | --- | --- |
| Screen | Investment and Capacity Planning | Pivot to different views that guide you through the process of investment and capacity planning. These views help you analyze capacity and demand data in multiple ways by examining different capacity and demand dimensions. Some views let you compare scenarios to display information that assists you in understanding the impact investment decisions within different scenarios have on balancing demand with capacity. |
| Analytic | WRK31 - Work Portfolio Financial Analysis | Work portfolio report that allows the analysis of project and portfolio financial plan data, including effort (FTEs/Days/Hours) or financial data (Cost/Benefit/Revenue). A single financial planning version is selected and the data type selected based on type and/or specific accounts. The slicer can be any work alternate structure or a line attribute of the selected accounts. |
| Analytic | WRK32 - Work Portfolio Financial Burndown Comparison | Work portfolio report that allows the comparison of one/many versions of project and portfolio financial plan data, including effort (FTEs/Days/Hours) or financial data (Cost/Benefit/Revenue). |
| Analytic | WRK33 - Project Cost or Revenue/Benefit Bubble | Work portfolio report that can select cost or revenue/benefit based measures from the financial planning data to drive bubble size. |
| Analytic | WRK34 - Work Portfolio Investment Balance Bubble | Work portfolio report, based on financial plan data, where the user can select benefit/revenue measures for the X axis, cost-based measures for the bubble size, and a risk-based attribute for the Y axis. |
Capacity Planning Process Steps
Process Step
Description
Set capacity targets by enabling resource groups/role/resource

Resourcing groups are configured by the administrator and are available to resource managers designated for those groups. For example, there may be a resource group configured that is R&D specific, but would exclude other groups such as Finance as that group is not relevant to the work being considered.

Once the groups are configured, navigate to Capacity Planning to view groups you have access to by selecting All Groups. Select a specific group to get an in-depth view of resource availability and capacity.

View all groups or a specific group

For more information:

Monitor projects

On the Capacity Planning page, bar charts display requests and assignments. The line chart displays the capacity of your resources. Below the charts, the heatmap represents resource demand and capacity. The heatmap threshold settings are configured by your administrator.

In the Demand table, open the projects to see how resources are distributed over time.

For more information:

Analyze capacity against demand

On the Capacity Planning page, use the top drop-down to toggle to Requested Demand Vs Availability to review open requests and remaining availability, or Demand Vs Capacity to see the full capacity of resources including already assigned work. Under Resources, use the dropdown to change the view to Resources, Users Only, or Job Titles. Make changes to the requested amounts as needed.

If your resources are fully booked or you want to use resources from other groups, click the Filter icon to see resources in the Group or Sub Group to view additional resources. You can also filter by skills to quickly see which relevant resources are available, and assign them to the Project(s).

Use Resource Planning Units to display work in FTEs, Hours, or Person Days. Change the calendar based on the project and planning length desired.

Change view options on the capacity planning

Use the Discussions feature to discuss requests and staffing request levels with the Project Manager.

For more information:

Shift project dates and durations

From Project Details, durations and project dates may be adjusted. All project assignments and staffing requests in the project can be adjusted together using the Shift Dates button that appears in the Project Assignment and Staffing Request panels. This is especially useful when changing the Project's start date as it will shift all Project Assignments and Staffing Requests relative to the new start date.

Shift dates

For more information: