Services Portfolio Planning
Last updated
Services Portfolio Planning
The Services Portfolio Planning capability's enablers include Opportunity Management, Engagement Management, and Governance. Each capability within the Planview Capability Framework has a distinct set of features and functionality, business processes, best practices, and analytics and reports that deliver value to customers in the form of specific business outcomes.
Enablers and Business Outcomes
Opportunity Management
Supports full visibility into and the managing of the opportunity pipeline. Resulting business outcomes include:
We can effectively intake opportunities from our integrated customer relationship management system.
We have a structured process to categorize, assess, and carry out sizing estimation of opportunities.
We have full visibility into the pipeline to manage future staffing needs.
We can efficiently transfer knowledge from opportunities to new engagements.
Engagement Management
Supports the creation and governance of new work and the alignment of services processes and structures to multiple business models including time and materials (T&M), fixed fee, subscriptions, and outcomes. Resulting business outcomes include:
We have a consistent engagement management process for projects.
We have a structured process to categorize, assess, and carry out sizing estimation of engagements.
We can support to different business models such as T&M, fixed fee, subscriptions, and outcomes.
We can have a catalog of templates aligned to business models used to create new projects with predefined schedules and attributes.
Governance
Provides a process and governance structure for progressing opportunities and engagements through defined steps, ensuring that decisions are made by the right people and are based on structured data. Resulting business outcomes include:
We have a structured process to manage opportunities and engagements.
We can ensure that approval and review actions have been assigned to the appropriate user.
Best Practices
Prioritize integration
The benefit of professional services automation is that every part of the process can work together to optimize delivery, customer value, and profitability. Ensure all your systems are connected, particularly customer relationship management (CRM), project planning, team delivery, and enterprise resource planning (ERP) tools.
Utilize portfolio management
Creating the ability to quickly and easily look at all of the projects across a portfolio, and then slice, dice, and drill into that work is a best practice in itself. Leverage the full capabilities of your portfolio management product to see which projects are on track or at risk, so that leaders can quickly identify bottlenecks or costs that are impacting margins, and effectively make decisions on how to adjust.
Establish governance
Organizations can cut down on valuable time and costs by streamlining their processes with a governance model. Whether it's operations or a project management office, there should be a designated authority that ensures that methodologies and processes are being created, standardized, and optimized. They should also oversee a governance structure that allows them to monitor that those processes are being followed and that projects are being delivered successfully.
Standardize the statement of work (SOW)
The statement of work is one of the first steps in any engagement, and standardizing the process will not only help save time, but also increase your win rates. Using bespoke SOWs for every engagement will inevitably lead to bottlenecks in the sales process – switching to a templated SOW process can help set customer expectations early, cut down on back-and-forth, and create a faster time to value.
Streamline project creation
Standardizing the project creation process allows past knowledge to be leveraged against future opportunities and optimized for repeatable engagement success. Ensure your CRM and project management tools are connected to capture a standard set of required opportunity information, and that whether using requests or draft projects, the process for creation and approval is standard, clear, and easy to follow.
Templatize
Utilizing templates captures methodologies, helps streamline project creation, and allows work to be easily optimized for the type of work or billing model. Create specific templates to capture all the required information and documents needed for each type of opportunity or engagement, so that work is repeatably optimized for profit in a way that is scalable across the organization.
Keep margins top-of-mind
Profitability should be the foremost concern of any project manager or services organization. Ensure that margins are being considered at every stage throughout the planning process, from request creation through governance, and during any increases in scope throughout the execution process.
Factor in constraints
Constraints are factors that limit scheduling options, such as government regulations or must-start or must-end deadlines, which typically come in the form of hard go-live dates dictated by customers. Understanding and planning around your constraints is a critical part of executing any successful engagement.
Processes and Reports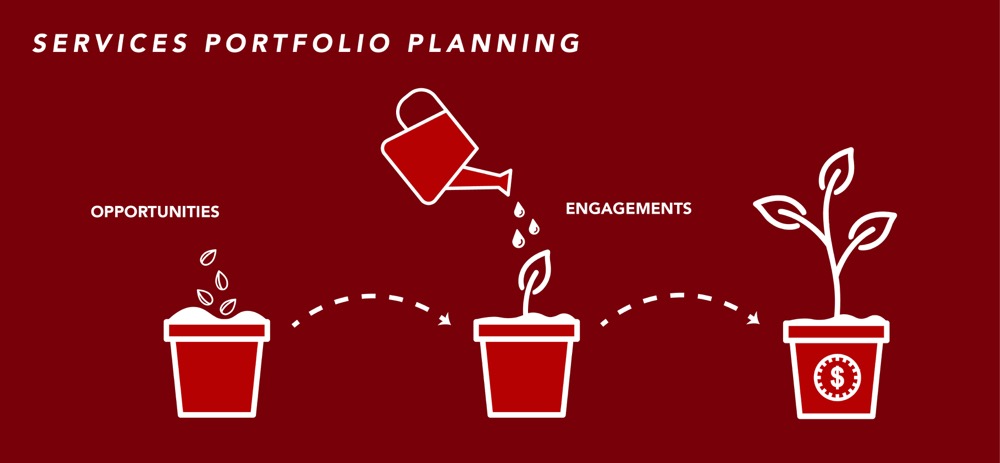 Services portfolio planning enables organizations to optimize revenue and streamline the process of turning opportunities into engagements. By aligning projects to the business model, billing is tied to work items and schedules that create value, allowing for maximized profit and effective delivery.
Opportunity Management Process Steps
Process Step
Description
CRM Integration

Import opportunity information from an integrated customer relationship management (CRM) system that has been configured to define relevant information such as title, projected revenue, and estimated start date.

The opportunity can be imported as a request or as a project draft. Customer information may also be imported.

For more information:

Create request

A request is one way to initiate an engagement in AdaptiveWork. Starting with a request helps ensure that the incoming opportunity is well-defined, categorized, and assigned to the right area for delivery. It also allows for the potential engagement to be evaluated on the estimated costs and capacity for appropriate scheduling.

For more information:

Convert to project

If the opportunity is won, convert it to a project. The project and originating request will be related, and the request owner will be notified along with any relevant users.

For more information:

Close request
If the opportunity is not won or the request is no longer needed, close the request. This provides a record of its status for reporting and ensures that no further updates can be made.
Engagement Management Process Steps
Process step
Description
Select billing type and template

Align your engagement to the business model by selecting a billing type for the project. Billing type controls the planning and tracking of revenues and gives time-phased visibility into fixed-price work items. Project work should be aligned to the type of billing that is utilized in the engagement:

Fixed Price – expected revenues for the completion of the work are agreed to in advance and do not change.
Fixed Price Milestones – expected revenues are agreed to in advance based on the achievement of certain milestones.
Time and Materials – expected revenues are earned with the performance of work, even if work packages are not completed.
Mixed – a combination of these types.

Templates optimize work delivery by streamlining work items and processes. Utilizing predefined templates allows you to efficiently create work in the formats required to support specific business models.

Documents used for billing, such as quotes, statements of work, or contracts, may be included in a project or work item by adding a file. If a project or milestone used to create a template includes documents, those documents will be included in the template.

For more information:

Create project

Create a project to form the basis of the project schedule. The project can be converted from a request or by creating a new project in the Projects module. Projects contain the basic units of work in the form of tasks, financial information, timelines, roadmaps, baselines, and other information needed for an engagement to be successful.

When a new project is created, you will be required to fill out certain fields to ensure you provide the appropriate data for categorization. Project assignment and any lifecycle steps will start following your defined governance process.

Plan work breakdown structure and milestones

Build out the work breakdown structure to form a high-level project schedule by adding work items such as sub-projects, milestones, tasks, and sub-tasks. As part of this step, you can define the project start and end date, duration, and dependencies.

The project schedule consists of any elements in the WBS that exist below the project level in the hierarchy, such as projects, milestones, and tasks, as well as effort, dates, and durations. The WBS can be displayed as a grid or as an interactive Gantt view. This view provides alternative project schedule views in the Gantt settings, such as critical path, baseline, or baseline versus actuals.

For more information:

Forecast costs and revenue

Capture a high-level estimate of the engagement's costs and expected revenue in the work financial plan. Costs include labor, capital spending, expense spending, and more.

For more information:

Review and approve
Submit your project for review. Once approved, the project's lifecycle state should be updated to active. This will also update all tasks within the project.
Governance Process Steps
| Process step | Description |
| --- | --- |
| Governance point A | At this potential governance point, the request intake information is reviewed. If the opportunity is won, a new project will be created. |
| Governance point B | At this potential governance point, the initial project planning information will be captured and reviewed to determine if enough is known to proceed with the project. This information includes description and categorization attributes, cost and benefit estimates, and roadmap dates. |
| Governance point C | At this potential governance point, proposed engagements (projects) are analyzed based on forecasted capacity and cost to accurately estimate delivery. This is typically based on resource capacity and finances. |
| Governance point D | If required, projects can proceed through a gated governance process. Each gate normally requires the project to comply with a checklist of activities and deliverables before proceeding to the next gate. |
Services Portfolio Planning Reports
​