Innovation Management
Last updated
Innovation Management
The Innovation Management capability supports the submission, centralization, and evaluation of ideas from across the organization to drive solutions to crowd-generated challenges and opportunities. Each capability within the Planview Capability Framework has a distinct set of features and functionality, business processes, best practices, and analytics and reports that deliver value to customers in the form of specific business outcomes.
Innovation Management Business Outcomes
We can foster stronger collaboration and ideation, allowing the crowd to share challenges/opportunities with each other and select the best solutions to the challenges that matter to them.
We can generate, capture, and refine new ideas, managing the entire process of evaluation and prioritization.
We can use quantitative reviews and qualitative evaluations to select ideas with the strongest business value.
We can automatically identify trends from crowd-generated content using natural language processing and sentiment analysis.
Innovation Management Processes
Innovation Management sources, gathers, compares, and assesses new ideas across your organization.
Innovation Management – Standard Challenge Example Process Steps
Process Step
Description

When the challenge commences users will begin to post ideas on how to solve the business challenge. Each idea will contain a title and description, along with an image. Categories, keywords, and attachments may also be added.

For more information, see Tips for Posting Ideas.

As the challenge moves through the process, feedback is given, and more ideas are posted, a participant may find it helpful to make small changes or incorporate suggestions into their idea. They may edit their idea to make these updates.

Participants comment on ideas

As ideas are presented during the challenge, it can be helpful to provide the idea creator with feedback, as other participants may identify additional opportunities or potential problems with an idea. If commenting is enabled for the challenge, participants can provide this feedback by commenting on the idea. Users may also show support by liking ideas and comments that are made on ideas.

Participants vote on ideas

Throughout the initial phase of the challenge, users are able to vote on ideas they support. The voting system is configured within the Challenge Wizard to be based on either the number of likes or by a star-rating system. These criteria can be used to determine if ideas pass into the next phase.

Experts review the top ideas

Participants vote using Pairwise

In the final round, pairwise voting can be used to compare ideas side-by-side. The side-by-side ranking helps determine which ideas have the most support from participants in comparison to other ideas presented.

For more information on configuring pairwise voting, see Pairwise Administration.

Idea/s selected

With top ideas identified, the organization must now select which ideas to implement. This will typically happen through the process of an idea selection meeting, where the top ideas are discussed with the sponsor, experts, and any other stakeholders.

Prior to the selection meeting, you can download a challenge report to get all of the relevant information on each idea in a spreadsheet. It is recommended to remove all but 5-10 ideas for the discussion.

During this meeting, it is important to discuss the value of each idea against the organization's evaluation criteria, its impact on business, budgeting, and the implementation strategy for the ideas selected, including who will be responsible for execution. You should also ensure there is a plan for announcing the selected ideas.

When ready, a challenge administrator can choose the selected ideas on the challenge home page. A custom layout for the announcement can be created if desired, and an email will be sent to selected idea owners if enabled.

Challenge closed

When the last phase of your challenge ends, Spigit will automatically update the challenge timer, all pages, and permissions. You can also manually close a challenge at any point.

Once the challenge is closed the challenge winners and top participants should be announced in a timely manner, and the process of implementation can begin.
Innovation Management – TeamTap Example Process Steps

| Process Step | Description |
| --- | --- |
| | Team Tap is a micro-challenge used when you want a simple, spontaneous outreach amongst your peers to solve an immediate problem. This could anything from soliciting feedback on an idea to asking for help with a process. You can create a Tap from any page within Spigit. |
| Tap shared with relevant users | Once a Tap is created, you can share your Tap with other users to prompt them for feedback. The Tap can be shared directly within Spigit, or as a link you can add to an email or other communication channel. |
| | If a user has ideas that can help the tap owner, they can post them as a response. They can also comment on other user responses or like other responses and comments. |
| | Users also have the ability to vote on the response they like the most. This can give the tap owner a feeling for which response(s) to accept. |
| Tap owner accepts relevant responses | |
| | When the responses have been accepted and the tap owner feels confident, they can close the Tap. |
Outputs, Reports, and Analytics
This solution capability is supported by the following outputs, reports, and analytics.
| | | |
| --- | --- | --- |
| Type | Associated Outputs, Reports, and Analytics | Description |
| Report | INN01 - Challenge Activity | Contains an overview of each challenge and community that is present within a Spigit instance.* |
| Report | INN02 - Ideas | Contains all idea activity visualizations for each challenge.* |
| Report | INN03 - Idea Activity Breakdown | Displays key idea metrics which each challenge uses to prioritize ideas.* |
| Report | INN04 - Idea Closure Fields | Summary of all idea closure form fields that are configured. Enables a user to list ideas closed per challenge along with corresponding values from that challenge's idea closure form.* |
| Report | INN05 - Idea Closure Fields Numeric | Represents the idea closure fields that contain numeric estimates.* |
| Report | INN06 - Idea Custom Fields | Provides an out-of-the-box search and filter capability for all idea template custom fields that are in use.* |
| Report | INN07 - Idea Voting Breakdown | Shows which users are prioritizing which ideas.* |
| Report | INN08 - Pairwise | Offers a breakdown of the Pairwise voting feature. Contains a combination of idea and Pairwise voting dimensions including Idea ID, Idea Title, URL, Total Pairwise Up Votes, Total Pairwise Down Votes, Total Pairwise Skip Votes, and the Pairwise Ranking.* |
| Report | INN09 - Review Responses | Provides insights into the breakdown of the review field responses for any review field in the challenge. Shows the breakdown of responses per idea based upon review form fields.* |
| Report | INN10 - Tasks | Visualization 1 shows the breakdown of individual tasks that are assigned to ideas within the chosen challenge or community. Visualization 2 shows a simple breakdown of reviews and ideas only. Visualization 3 demonstrates the average score obtained for each of the review fields that are present in the challenge, illustrating a high-level view of strengths and weaknesses associated with the different quantitative fields in the review form.* |
| Report | INN11 - User Activity Challenge | Shows a visualization that represents users that have participated in the challenge.* |
| Report | INN12 - User Custom Fields | Shows the overview of users listed in the Spigit application and all of their user attributes.* |
| Report | INN13 - User Activity / Time | Uses the ideaID and the posting timestamp of the idea to determine activity by users across a temporal filter.* |
| Report | INN14 - Idea Key Themes | Leverages Natural Language Processing to cluster ideas using the text contained in their descriptions.* |
| Report | INN15 - Sentiment Key Influencers | Shows what influences the overall sentiment score for ideas in the challenge.* |
| Report | INN16 - Idea Sentiment Dashboard | Offers deeper insights into a selected idea.* |
| Output | INN17 - OData/Power BI Desktop Custom Reports | Data export feature, which provides for the configuration of customized reports via Spigit's OData Connector to Power BI Desktop. |
| Output | INN18 - OData/Tableau Custom Reports | Data export feature, which provides for the configuration of customized reports via Spigit's Tableau Web Connector, using Power BI Desktop. |
| | INN19 - Excel Custom Reports | Data export feature, which provides for the configuration of customized Excel Reports via Spigit's Excel Connector and the Excel PivotTables functionality, using Power BI Embedded. |
| Report | INN20 - Dynamic Idea Report | Gives an in-depth snapshot of submitted ideas, including customized idea template fields, and idea engagement metrics (votes, comments, ratings, reviews).** |
| Report | INN21 - Dynamic Review Report | Displays all completed reviews and tasks. Shows the current idea review rating during the Expert Review Phase of the Challenge.** |
| Report | INN22 - Idea Selection Report | Provides all the data needed to consider whether an idea should be moved to Successfully Implemented. Used when conducting the final review of ideas at the end of the challenge, when meeting as a group, to determine final successful ideas. Can be used to facilitate an effective selection meeting.** |
| Report | INN23 - Idea Tracking Report | Shows all ideas closed successfully. Tracks idea details that have been selected for implementation.** |
| Report | INN24 - Ideas Activity Report | Shows all ideas' graduation criteria fields and how close they are to reaching the threshold set for graduation to the next stage. Used towards the end of a phase to see if any ideas should be manually moved to the next stage.** |
| Report | INN25 - Moderator and Expert Activity Detail Report | Lists the activity of all moderators and experts within a given date range.** |
| Report | INN26 - Private Comments Report | Lists any ideas that have had Private Comments posted by either an Administrator or Moderator.** |
| Report | INN27 - Rapid Report | Provides a holistic picture of the activity around top ideas. Displays Pairwise ranking, idea stats, and review scores. Used to compare ideas and where they were ranked by the crowd and review team.** |
| Report | INN28 - User Task Report | Tracks who has been assigned tasks, which are outstanding, and which have been completed during Expert Review phase.** |
| Report | INN29 - Users with no Activity Report | Lists users who have not taken any action since a given date.** |
| Report | INN30 - Reviews | Three visualizations on the Task tab that show Reviews Assigned and Completed, Idea Review Scores, and Review Fields Average Score.* |
| Analytic | INN31 - All Data Clusters | Shows automatic modeling of Ideas, Taps, and Tap Responses together.* |
| Analytic | INN32 - TeamTap Key Themes | Displays key themes, which are obtained solely from the Tap Title (Tap Description).* |
| Analytic | INN33 - Tap Drill Through Dashboard | Provides a readout of all the key data on a selected Tap.* |
| Analytic | INN34 - Tap Clusters | Shows which of the Tap Title key themes drive Tap Response themes.* |
| Analytic | INN35 - User Activity Breakdown | Displays configurable viewing of activity level. The default slicing on the page shows the top 50% of active users in the last 90 days.* |
| Analytic | INN36 - Tap Explorer | Focuses on a blend of user activity and themes to show how key themes drive activity levels across the crowd, allowing for identification of the most active users in each scenario.* |
| Analytic | INN37 - Tap Explorer Activity | Demonstrates count and type of activity when linked with user attributes, using a "cord" type visualization.* |
| Analytic | INN38 - Tap Explorer Themes | Conveys levels of activity against Tap key themes and user attribute data, using a "cord" type visualization.* |
| Analytic | INN39 - TeamTap Sentiment Influencers | Focuses on the drivers that increase and decrease sentiment.* |
*Standard Report in Insights/Power BI.
**Legacy Excel Report. Available but no longer supported as of 4/30/2021.
Ideation
Time-bound challenge: set start and end dates
Always-on challenge: no specified end date
Live challenge: facilitated in person or via web
External challenge: with non-employees (may require separate Spigit instance)
Dragon's Den, Shark Tank, or contest challenge: compete for best idea and pitch to executives
Hackathon: define problems; suggest and select projects for the event; collaborate, review, and select projects

Knowledge sharing
You Ask, You Answer Q&A challenge: Crowd submits questions, crowd provides answers
You Ask, We Answer Q&A challenge: Crowd submits questions, a defined subset of individuals provides answers
Success stories, proven innovations, best practices, thought starters, creativity how-to

Applications may include, but are not limited to:
Agile Transformation: PI planning, project identification and scoping, portfolio or backlog prioritization, risk identification and mitigation, OKR or KPI development, epics, visions
Operations: Cost or process efficiency, continuous or process improvement, design rollouts
Business Development: growth opportunities/strategies, partnerships, market trends, competitor insights, business models
Product/service Management: concepts, enhancements, go-to-market plans, implementation plans, marketing and branding
Customer: voice, insights, feedback, needs, experience.
Continuous improvement: idea funnel, project prioritization
Employee: experience and management
General: Problem identification and solving, funding or project applications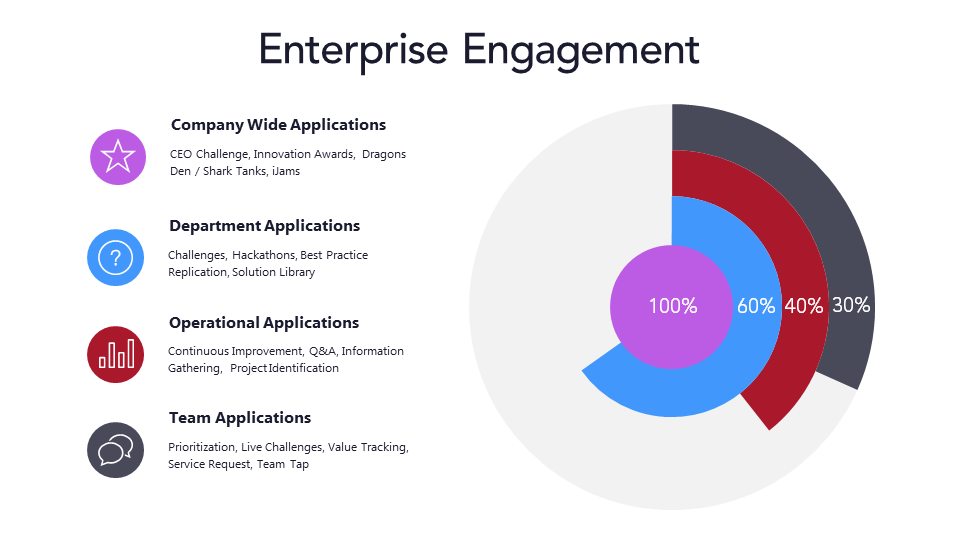 | | Project | Program | Agile | |
| --- | --- | --- | --- | --- |
| New Product Ideas | ✓ | | | |
| | | ✓ | | |
| | | | | ✓ |
| | | | ✓ | |
| | ✓ | ✓ | | |
| | ✓ | | | |
| | ✓ | | | |
| Risk Identification and Mitigation Ideas | ✓ | ✓ | | |
| Implementation Ideas | ✓ | ✓ | ✓ | ✓ |
| Resource Selection | ✓ | ✓ | ✓ | ✓ |
Additional Use Cases
Innovation: Contests, share proven innovations, success stories.
Operations: Best practices sharing, Q/A, cost efficiency, continuous improvement, internal capital funding.
Business Development: Opportunities, partnerships, strategies.
Product Management: New concepts, enhancements requests, customer voice, go-to-market plans.
PMO: PI planning, problem identification and scoping, project value tracking.
Agile Transformation: Portfolio or backlog prioritization, risk identification and mitigation, OKR or KPI development, PI Planning, opportunities, epics, visions.
An Innovation effort can be a complex, sequential series of actions around posted ideas, in response to a corporate-approved Challenge Question (challenge). By contrast, it can also be a simple, spontaneous outreach amongst one's peers to solve an immediate problem (Tap). The following Best Practices illustrate opportunities for Collaborative Discovery and Collective Decision Making in an Innovation Management Solution.
Managing Your Innovation Program
Top 10 Tips/Best Practices for Hosting a Challenge
Find the right sponsor: Someone dedicated to solving an important opportunity and willing to advocate for the challenge and follow through with the ideas.
Ask the right question: Something that is owned by the sponsor and is aligned with the strategic objectives of the organization.
Invite the right audience: The more the better. Diversity in thinking is an innovator's best friend.
Moderate the conversation: Active moderation helps build ideas, connect people to ideas, and keeps the crowd focused on the challenge topic.
Evaluate the ideas: Subject Matter Experts (SMEs) should evaluate the crowd-nominated ideas, to ensure they meet the sponsor's criteria for success.
Communicate: A well planned communication campaign drives overall participation and engagement on the desired behaviors and goals.
Recognize excellence: Provide recognition for participants that go above and beyond with their activity levels and quality of content.
Monitor the challenge: Check idea graduation rates and participation levels often; which can help determine needed adjustments to graduation criteria and communications.
Take action: Do something with the selected ideas to build credibility and demonstrate value to all stakeholders.
Follow up: Let the audience know what's happening with the selected ideas, so it doesn't turn into a black hole suggestion box.